Hand Crafted Laboratories Faust F2
Multi-Pattern Tube Condenser Microphone
The Faust F2 is a multipattern tube microphone, based on the fixed-cardioid HCL Faust.
The only differences between the Faust and F2 are the capsule and power supply, plus circuitry to support the multipattern capsule.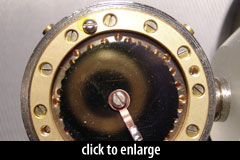 Both mics use a large-diaphragm, dual-backplate capsule with a backplate drilling pattern derived from Neumann's K67. The Faust uses a single-diaphragm capsule (although the rear of the capsule probably has a dummy membrane on it), whereas the F2 uses a dual-diaphragm version of the capsule. In all cases, the capsule uses gold-sputtered, center-terminated, 7-micron Mylar diaphragms measuring 26mm in diameter. Outside capsule diameter is 34mm.
The amplifier circuit uses a 6S3P triode tube, hand-selected for low noise and linear frequency response. The circuit uses discrete components, and is populated by hand in the HCL facility. The basic circuit design is based on the amplifier in the Neumann U-47.
HCL mics, as the brand name implies, are built by hand. Nearly every component of the F2 is made by HCL, including the microphone body, capsule, and circuitry. The output transformer is supplied by Cinemag.
Both mics include an external power supply for the tube amp circuit in the microphone. The F2 version of the PSU includes an 11-position pot for adjusting the mic's pickup pattern. (9-way pots are more common; they offer Figure-8, Cardioid, and Omni, with three positions between each pair. The F2 splits the same range into finer increments, offering four positions between Figure-8 and Cardioid, and four more between Cardioid and Omni.)
The Faust F2 ships with a tube power supply and cable, an elastic shockmount, and a padded metal flightcase.
The Hand Crafted Laboratories Faust F2 is also known as: F2.
Specifications
Frequency Response - Cardioid

Click Graph to Compare!
| Pickup Patterns | Pads & Filters |
| --- | --- |
| Cardioid (44 mV/Pa; 20 - 20,000 Hz) | |
Capsule Dimensions
Impedance
SPL/Noise
Diaphragm diameter: 26mm
Capsule diameter: 34mm
Diaphragm gauge: 7 microns
200 Ohms (Low)
Self-noise: 13.0 dB(A)
| Weight | Length | Max Diameter | Interface(s) |
| --- | --- | --- | --- |
| 800g (28.22oz) | 210mm (8.27'') | 56mm (2.20'') | |
Power Specifications
Includes tube power supply
Did we get anything wrong on this page? Please let us know!