Hammer Audio HA-872
Cardioid Condenser Microphone
The Hammer Audio HA-872 is a large-diaphragm, multipattern FET condenser microphone. It is a modern recreation of the long discontinued Neumann U87i, thought by some engineers to have more desirable sonic characteristics over the current Neumann U87 Ai.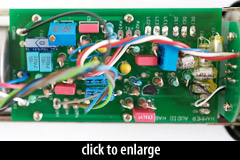 The HA-872 is made in the UK, using high-quality components like WIMA capacitors and a custom-designed Sowter transformer. It contains a FET (2N3819) selected for high headroom. The capsule is Peluso's US-made K87i which is 34mm in diameter and center-terminated. The mic is built by hand using through-hole construction.
According to Hammer, the HA-872 is meant to be "an expanded version of the classic original 1972 Neumann U87". That expansion takes the form of a few modifications to the original design.
First, the HA-872 has a triple-layer headbasket (as opposed to a dual-layer) for greater plosive protection. Hammer claims that this greatly reduces the need for a separate pop filter.
Second, the HA-872 has two low cut frequencies - 80Hz and 180Hz - as opposed to the U87i's single high-pass filter option.
Third, and most notably, the HA-872 has a voice switch. Similar in concept to the Bock iFet and some of the high-end Lauten microphones, the voice switch allows the mic to have two distinct sounds: "vintage" mode smooths out the high end, and "modern" mode keeps the highs intact and therefore more open-sounding.
Max Gale

The idea for the circuit actually came from a desire to counter the traditional resonant peak of condenser mic capsules. We realized quickly that this could be a great feature for a user to be able to change the sound of the mic significantly without having to use and EQ or extra gear, effectively giving them two mics in one. Importantly we did NOT want to achieve this using any kind of EQ or extra processing, and our voicing circuit works using only the frequency response of the brilliantly made Peluso K87i Capsule and high quality capacitors in the circuit.
The HA-872 is furnished with a camera-style case, cable, and shockmount.
Permalink: Hammer Audio HA-872
The mic was released in 2016.
Specifications
| Pickup Patterns | Pads & Filters |
| --- | --- |
| Cardioid (10 mV/Pa; 20 - 20,000 Hz) | Filter: Voicing vintage/modern (Via Switch) |
Capsule Dimensions
Impedance
SPL/Noise
Diaphragm diameter: 37mm
Capsule diameter: 34mm
Diaphragm gauge: 6 microns
n/a
Max SPL: 142 dB
Self-noise: 14.0 dB(A)
| Weight | Length | Max Diameter | Interface(s) |
| --- | --- | --- | --- |
| 791g (27.90oz) | 240mm (9.45'') | 75mm (2.95'') | |
Power Specifications
Requires phantom power
Phantom voltage: 48v
Did we get anything wrong on this page? Please let us know!