Earthworks Audio PM40
Omnidirectional Condenser Microphone
The PM40 "PianoMic" system is a unique solution for recording an acoustic piano. The kit consists of two miniature omnidirectional microphones mounted on a telescoping bar that rests across the piano, suspended above the strings.
The two microphones are Earthworks' premium high-definition electret condensers, with a flat frequency response (±1dB) from 9–40kHz. The capsules are hand-selected and graded, then tuned via passive filters to meet Earthworks' strict performance requirements.
Like all Earthworks' miniature electret capsules, the PM40 capsules provide very fast impulse response and "diaphragm settling time," resulting in cleaner and more realistic recordings with less smearing in the time domain.
These microphones are billed as "Random Incidence Omnis" to reinforce the idea that they are designed to pick up sounds from all directions.
Earthworks Audio

The microphones in the PianoMic System are placed within the sound field of the piano, where sound is coming from multiple sources and multiple directions. Each string is a separate sound source, and the soundboard is also a sound source. In addition, there are multiple reflections of each sound source from the soundboard, piano sides and piano lid. These reflections, arriving from different angles, create what is known as a "diffuse sound field." A random-incidence microphone is designed to be placed within such a diffuse sound field and pick up sounds uniformly, whether they arrive at the front, the sides or the rear of the microphone.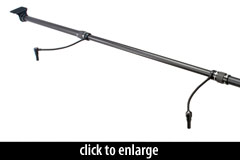 The mounting bar does not require permanent installation, and can be used with the piano lid open or closed.
The microphones' placement inside the piano, close to the piano strings, provides two benefits not commonly found in piano microphone solutions: better isolation, and higher gain-before-feedback.
The piano body and shell provide some acoustic isolation of ambient sounds, such as nearby instruments in an ensemble. Also, the mics' placement close to the piano's strings makes the piano's direct sound "phenomenally louder" than any other source.
Such close placement would be impossible with directional microphones, due to the bass boost of proximity effect.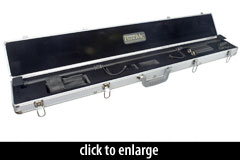 The PM40 kit consists of two separate omnidirectional condenser microphones mounted to 12cm (4.8&39;&39;) goosenecks, which are in turn mounted to a telescoping metal pipe (115–160cm). Audio cables are routed internally, and terminate in a breakout box with two 3-pin XLRM jacks. The entire system ships in a long flightcase.
Sound On Sound, 2009

[The piano's sound through the PM40] was bright, crisp and detailed, with a powerful bass and an airy top end. The stereo imaging was also nicely spread and defined. Closing the lid resulted in a significant change, as you would expect, making the sound more mid-prominent and closed-in — but a little EQ helped to balance the sound out very well, and given the surprising level of isolation from external sounds, the compromise was well worth it.
Recording Magazine, 2011

Working with these mics I noticed an instant difference in our piano sound, and the musicians on stage noticed a huge change in their in-ear monitoring system. Not only was the bleed from the other instruments significantly lessened, but even with the lid fully closed the sound retained its natural character without sounding boxy like a boundary mic on a closed lid.

[T]he PianoMic is not a cheap investment, but then again neither is a good-sounding, well-maintained grand piano! If piano recording or mixing in a live setting is part of your world, this system commands serious consideration.
The Earthworks Audio PM40 is also known as: PianoMic.
Specifications
| Pickup Patterns | Pads & Filters |
| --- | --- |
| Omnidirectional (15 mV/Pa; 9 - 40,000 Hz) | |
Capsule Dimensions
Impedance
SPL/Noise
Capsule diameter: 6mm

n/a
Max SPL: 148 dB
Self-noise: 22.0 dB(A)
| Weight | Length | Max Diameter | Interface(s) |
| --- | --- | --- | --- |
| n/a | n/a | n/a | |
Power Specifications
Requires phantom power
Phantom voltage: 48v
Did we get anything wrong on this page? Please let us know!