CAD Audio E-100
Supercardioid Condenser Microphone
CAD's original E100 microphone was an inexpensive (for its time) multi-purpose studio condenser microphone, with an electret capsule and a neutral sound profile. Part of CAD's "Equitek" series, the E100 had an innovative transformerless amplifier circuit design.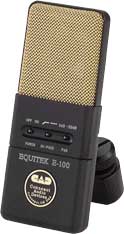 CAD

Typical FET (field effect transistor) condenser microphones use discrete designs. This means they use individual transistors that must be carefully matched for proper characteristics. Even with careful matching, discrete designs are inherently nonlinear.

Equitek microphones use a different approach. We do not use any discrete FETs. Instead, we use advanced high speed OpAmps (Operational Amplifiers). These OpAmps are individually laser trimmed for optimum performance and have very high gain. This allows a large amount of negative feedback to be used to significantly reduce any non-linearity.

During transients, these OpAmps may require more current than typical phantom power supplies can deliver. The extra current demands are accommodated by our unique power supply design. Instead of using phantom power to operate the microphone, we use it to charge a pair of rechargeable batteries.

This system creates a huge current reserve for the microphone's electronics, yet there is no maintenance involved because the microphone automatically keeps the batteries charged during use.
The OpAmp in the mic's output circuit is an OPA2107, according to the schematics. The OPA2107 was manufactured by Burr-Brown, and is currently made by Texas Instruments.
The mic could be powered by 48V phantom power, or by two 9V user-supplied batteries (not to be confused with the rechargeable batteries built into the amp circuit).
The E100 was manufactured in the US; a revised version, the e1002, was manufactured in China.
The E100 capsule was a back-electret design manufactured by a company called Primo. (The capsule was eventually discontinued; the revised edition of the microphone used a different, smaller electret capsule.) The capsule was shockmounted within the microphone headbasket.
The E100 body was metal. The grille was made of brass. An inner, finer screen made of stainless steel acted as a pop and EMI filter. The Primo capsule also had an integrated pop filter of some sort.
The face of the microphone provided three switches: power, high-pass filter (@80Hz), and -20dB pad.
SoundOnSound, 1997

Each microphone is issued with its own frequency response plot… and this showed the mic to be flat (± 1dB) between 10Hz and about 7kHz. It fell to -6dB by about 15kHz and was roughly -8dB by 20kHz.
The E100 was also available in matched pairs, CAD p/n E100MP. This kit shipped in a padded hardshell plastic carrying case; the mics were hand-matched for output level and frequency response.
The E100 was discontinued in 2003, with the launch of the e1002 in November of that year.
The CAD Audio E-100 is also known as: E100.
Specifications
Frequency Response - Supercardioid

Click Graph to Compare!
Pickup Patterns
Pads & Filters
Supercardioid (17.8 mV/Pa; 10 - 18,000 Hz)


Pad: -20dB (Via Switch)
Filter: HPF @ 80Hz (Via Switch)
Capsule Dimensions
Impedance
SPL/Noise
Diameter n/a

200 Ohms (Low)
Max SPL: 148 dB
Self-noise: 16.0 dB(A)
| Weight | Length | Max Diameter | Interface(s) |
| --- | --- | --- | --- |
| n/a | 152mm (5.98'') | 62mm (2.44'') | |
Power Specifications
Requires phantom power
Has battery compartment (2x 9V)
Phantom voltage: 48–52v
Did we get anything wrong on this page? Please let us know!