CAD Audio VX2
Multi-Pattern Tube Condenser Microphone
The VX2 was a dual-tube, multipattern large-diaphragm microphone manufactured in the US by CAD. Two headbasket/capsule assemblies were included, offering two designs and sonic colors within one mic.
Perhaps most unusually, CAD made available a digital output option, which installed within the included power supply. The ADC was capable of 24-bit, 96kHz operation and included its own VU meter for monitoring levels. Both XLR and RCA output jacks were provided for digital output.
The primary capsule measures 1.25'' (~32mm) inside diameter, 1.5'' outside diameter. Called the Optema, this large-diaphragm capsule had dual diaphragms and was capable of multipattern operation. The diaphragms themselves were made of 3-micron Mylar and were center-terminated.
In the VX2, each side of the capsule had its own independent tube circuit and output transformer. The 12AX7 tube amplifying the capsule outputs is a dual-triode; each half was wired to one of the two diaphragms.
The 12AU7 tube drives the output transformers. Presumably it, too, was wired as two separate output circuits.
The second capsule measures 1.1'' in diameter and is characterized as having a brighter sound.
The front and back diaphragms of both capsules were powered at all times; pattern selection was performed within the circuitry in the power supply. (For example, combining both capsules' signals in phase would yield an omni response, while inverting one or the other (typically the rear) would yield a bidirectional response.
Audio Media, 2000

The polar patterns are very well defined with the expected nulls and a reasonable uniformity across the frequency range, without as much as narrowing HF, as perhaps one would expect with large diaphragms.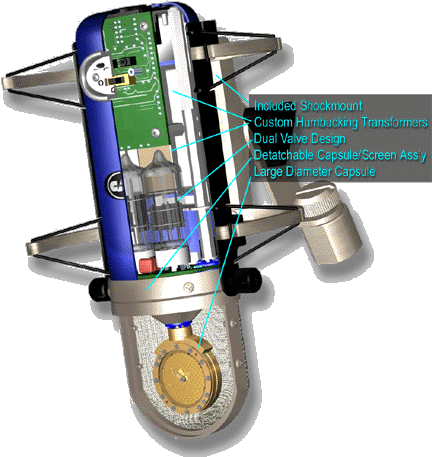 Features summary:
Dual valve design (separate tube head amp and tube output circuits)
Dual custom wound nickle core humbucking output transformers
Large capsule with 1.25'' diameter, 3 micron thick gold sputterd diaphragms (Exclusive CAD Optema™ Series)
Multi-pattern (Cardioid, Figure 8, and Omnidirectional)
Heavy duty analog power supply
Digital 24 bit output option with 120dB dynamic range and sampling rates up to 96Khz
Detatchable capsule/screen assembly for optional capsules with alternate frequency responces
8 and 16dB non-capacitive pad
80Hz high pass filter
includes ZM-2 shock mount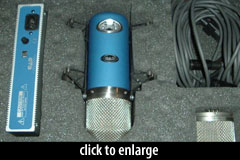 The mic shipped in a padded metal suitcase with PSU, power cable, shockmount, and both headbasket/capsule assemblies.
The VX2 was discontinued around 2006.
SoundOnSound

I compared the two CAD capsules to a reference Neumann M147, and the smaller OS110 capsule came across as the 'brighter' of the two, but perfectly acceptable in its own right. In fact, both capsules had that slightly larger-than-life character common to large-diaphragm mics, and compared very favourably with the big Neumann…

The bottom line is that the VX2 sounds absolutely fabulous — even if you couldn't see it, the sound would still let you know about its close-to-two-grand asking price! [£1949 or $2249 as of 1999-2000] It has all the warmth, and character that seem to make large-diaphragm valve mics so special.
ProRec, 2003

The VX2 sounded better than my U89 or C412s on the girls. The VX2 does a very nice job (IMO) of splitting the difference between the warmth of the Neumann and the brightness of the AKGs.
Permalink: CAD Audio VX2
The mic was released in 1998.
Specifications
Frequency Response - Omnidirectional

Click Graph to Compare!
Frequency Response - Cardioid

Click Graph to Compare!
Frequency Response - Bidirectional

Click Graph to Compare!
Pickup Patterns
Pads & Filters
Omnidirectional (17.8 mV/Pa; 10 - 20,000 Hz)
Cardioid (17.8 mV/Pa; 10 - 20,000 Hz)
Bidirectional (17.8 mV/Pa; 10 - 20,000 Hz)


Pad: -8dB (Via Switch)
Pad: -16dB (Via Switch)
Filter: HPF @ 80Hz (Via Switch)
| Capsule Dimensions | Impedance | SPL/Noise |
| --- | --- | --- |
| Diaphragm diameter: 32mm | 200 Ohms (Low) | Max SPL: 152 dB |
| Weight | Length | Max Diameter | Interface(s) |
| --- | --- | --- | --- |
| 850g (29.98oz) | 234mm (9.21'') | 73mm (2.87'') | |
Power Specifications
Includes tube power supply
Did we get anything wrong on this page? Please let us know!