CAD Audio Equitek E-350
Multi-Pattern Condenser Microphone
The Equitek E-350 was a revised version of the E-300 multipattern condenser. Both mics offered three polar patterns, a large-diaphragm capsule, -20dB pad, and CAD's proprietary Op-Amp "Equitek" transformerless amplifier circuitry.
The three known differences between the two microphones were:
The name plate.
The MSRP — the E-350 sold for less.
The source of the capsule.
Whereas the original E-300 used an imported large-diaphragm capsule, reportedly from China, the E-350 used a capsule manufactured within CAD's factory in Conneaut, OH.
This "Optema OS-110" capsule would be used within many of CAD's microphones, including the VSM, the dual-tube VX2, and the first generation M177 and M179 (the manufacturing of which would later be outsourced to an offshore factory). It was a 33mm capsule with (in its multipattern configuration) two 28mm center-terminated diaphragms made of 3-micron "high-strength polymer film."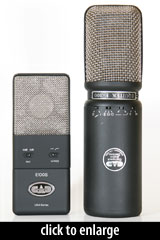 The E-300 and E-350 (note: E-300 is pictured, but E-350 was identical) are large microphones, standing nearly 9'' tall.
The large body houses the PCB (see circuit schematic linked from the sidebar) and two rechargeable 9V batteries.
A jumper labeled JP1, located inside the microphone, allows the mic's "auto power shut-off" feature to be disabled. It its factory default state, the microphone requires phantom power for operation. For field use without phantom power, the jumper must be set to "Manual" rather than "Auto Shut Off" mode.
The manual recommends leaving the external power switch "on," if the internal jumper is in "auto shut off" mode.
Permalink: CAD Audio Equitek-E350
The mic was released in 1998.
Specifications
Pickup Patterns
Pads & Filters
Omnidirectional (17.8 mV/Pa; 10 - 20,000 Hz)
Cardioid (17.8 mV/Pa; 10 - 20,000 Hz)
Bidirectional (17.8 mV/Pa; 10 - 20,000 Hz)


Pad: -20dB (Via Switch)
Filter: HPF @ 80Hz (Via Switch)
Capsule Dimensions
Impedance
SPL/Noise
Diaphragm diameter: 28mm
Capsule diameter: 33mm
Diaphragm gauge: 3 microns
200 Ohms (Low)
Max SPL: 148 dB
Self-noise: 11.0 dB(A)
| Weight | Length | Max Diameter | Interface(s) |
| --- | --- | --- | --- |
| 855g (30.16oz) | 227mm (8.94'') | 63mm (2.48'') | |
Power Specifications
Requires phantom power
Has battery compartment (two 9V)
Did we get anything wrong on this page? Please let us know!