Blue Microphones Yeti Pro
Multi-Pattern Condenser Stereo Microphone
The Yeti Pro is a revised version of Blue Microphones' popular Yeti USB condenser microphone. Like the original, it uses an array of three small-diaphragm capsules to produce three mono and one stereo polar pattern. Unlike the original, the Yeti Pro has both analog and digital output; further, the digital converter has been upgraded.
The onboard ADC is capable of 24 bit, 192 kHz resolution. This makes the Yeti Pro the highest-resolution USB microphone on the market. (Note that the mic can be set for all common sampling rates between 22kHz–192kHz.)
The Yeti Pro is one of fewer than a dozen USB mics with 24-bit digital output.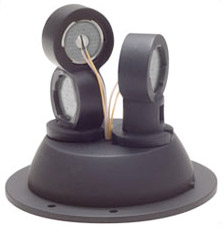 The mic's capsule array employs three 14mm condensers. One faces forward; the remaining two form a 90° X-Y array facing backwards. The output of these three capsules is internally matrixed to produce any of the following selectable polar patterns:
Cardioid
Omnidirectional
Figure-of-8
XY Stereo
Note that all four patterns are relative to the front (logo side) of the mic body.
There are four switches on the microphone:
Polar pattern
Gain
Master volume (for headphone jack)
Mute button - mutes the mic output (presumably both analog and digital)
Unlike the original Yeti, the Pro also provides an analog output, via a 5-pin XLR jack and included breakout cable, for studio use. All the output jacks can be found on the bottom of the microphone body:
1/8-inch stereo headphone jack
USB output (24-bit/192kHz)
5-pin XLRM
According to BLUE, the Yeti Pro contains separate digital and analog circuit boards in order to "maintain the integrity of the analog and digital signal paths."
The mic includes a yoke-mount desk stand, which can be removed. The base of the mic body incorporates a threaded stand mount for studio use.
The Yeti Pro will begin shipping in February, 2010.
Permalink: Blue Microphones Yeti-Pro
The mic was released in 2010.
Specifications
Frequency Response - Omnidirectional

Click Graph to Compare!
Frequency Response - Cardioid

Click Graph to Compare!
Frequency Response - Bidirectional

Click Graph to Compare!
Frequency Response - X/Y Stereo

Click Graph to Compare!
Pickup Patterns
Pads & Filters
Omnidirectional (4.5 mV/Pa; 180 - 20,000 Hz)
Cardioid (4.5 mV/Pa; 20 -150 - 20,000 Hz)
Bidirectional (4.5 mV/Pa; 100 - 15,000 Hz)
X/Y Stereo (4.5 mV/Pa; 80 - 15,000 Hz)

| Capsule Dimensions | Impedance | SPL/Noise |
| --- | --- | --- |
| Capsule diameter: 14mm | n/a | |
Weight
Length
Max Diameter
Interface(s)
550g (19.40oz)
n/a
n/a

5-pin XLR male (5)
USB (1)
Did we get anything wrong on this page? Please let us know!