Audio-Technica AT8022
X/Y Stereo Condenser Stereo Microphone
The AT8022 is a stereo electret condenser designed for field use: portable recorders, video cameras, etc. It can be powered by phantom power (11-52V) or a single AA (UM3) battery.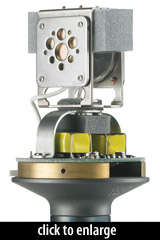 The mic has two electret condenser capsules mounted in near-coincident fashion. Oddly for an XY-stereo mic, the capsules are mounted back-to-back — at 180°, rather than 90°. The mic achieves an XY pickup pattern via "damping and porting," according to ATUS Audio Solutions. The perforated baffle plate mounted in front of the capsule is part of this design.
The capsules themselves are modified versions of the AT4021 capsule. The diaphragms are made of 2-micron PPS (Polyphenylene Sulfide), a plastic resin known for its thermal and directional stability. Diaphragm diameter is 16.3mm; the capsule diameter is 21mm.
Note that the mic is designed for end-address use, and can be mounted atop a video camera. It is due to the damping and porting of the capsules that the mic can create an XY-stereo image from sounds that happen primarily off-axis.
The mic's shaft diameter is 21mm. It has a single XLR5M jack, and is supplied with two audio cables:
balanced, 2-meter Y-cable (stereo to two mono XLR): XLR5F to two XLR3M
unbalanced, 2-meter XLR5F to 3.5mm TRS (mini-jack)
The mic also includes a mic clip (p/n AT8405a), foam windscreen, battery, and a storage pouch.
In August, 2009, Audio-Technica issued a Service Bulletin offering a free repair for all AT8022 with date codes 0840, 0843, 0848, 0904, 0909, 0921. The mics are wired out of phase, making the difficult to use in conjunction with in-phase microphones. See sidebar link for contact info.
The Audio-Technica AT8022 is also known as: AT-8022.
The mic was released in 2008.
Specifications
Frequency Response - X/Y Stereo

Click Graph to Compare!
Pickup Patterns
Pads & Filters
X/Y Stereo (12.5 mV/Pa; 20 - 15,000 Hz)


Pad: -10dB (Via Switch)
Filter: HPF: -12dB/octave @ 80Hz (Via Switch)
Capsule Dimensions
Impedance
SPL/Noise
Diaphragm diameter: 16.3mm
Capsule diameter: 21mm
Diaphragm gauge: 2 microns
250 Ohms (Low)
Max SPL: 128 dB
Self-noise: 19.0 dB(A)
| Weight | Length | Max Diameter | Interface(s) |
| --- | --- | --- | --- |
| 247g (8.71oz) | 186mm (7.32'') | 47mm (1.85'') | |
Power Specifications
Requires phantom power
Has battery compartment (1.5V AA/UM3)
Phantom voltage: 11-52v
Did we get anything wrong on this page? Please let us know!