Audio-Technica BP4025
X/Y Stereo Condenser Stereo Microphone
Part of Audio-Technica's "Broadcast & Production" series, the BP4025 is an end-address XY-stereo microphone with a unique compact dual-capsule stereo head.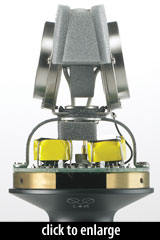 Rather than mounting the capsules so their planes intersect at 90°, as one might expect would be necessary for X-Y imaging, A-T engineers have produced a realistic, wide stereo image using capsules mounted nearly parallel, back-to-back. This approach allows the headbasket assembly to be significantly smaller than if the capsules were mounted at right angles to one another.
(A-T's "consumer" version of this mic, the AT8022, uses a similar mounting and baffling arrangement for small-diaphragm capsules; see sidebar link.)
The two capsules in the BP4025 are large-diaphragm electrets. Although originally described here as having been "designed for the AT2035 and modified for use [in the BP4025]," our source for this description has updated us that this is not entirely accurate, yet no further explanation on the BP4025's capsules was provided.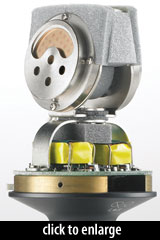 The diaphragm material is 2-micron PPS (Polyphenylene Sulfide), a plastic resin known for its thermal and directional stability. The diaphragms' active diameter is 24.3mm.
The output circuit is transformer-balanced.
The mic ships with a mic clip (Audio-Technica p/n AT8405a), a foam windscreen, and a soft storage pouch.
In August, 2009, Audio-Technica issued a Service Bulletin offering a free repair for all BP4025 with date codes 0844, 0850, 0851, 0852, 0904, 0907. The mics are wired out of phase, making the difficult to use in conjunction with in-phase microphones. See sidebar link for contact info.
Permalink: Audio-Technica BP4025
The mic was released in 2008.
Specifications
Frequency Response - X/Y Stereo

Click Graph to Compare!
Pickup Patterns
Pads & Filters
X/Y Stereo (25.1 mV/Pa; 20 - 17,000 Hz)


Pad: -10dB (Via Switch)
Filter: HPF: -12dB/octave @ 80Hz (Via Switch)
Capsule Dimensions
Impedance
SPL/Noise
Diaphragm diameter: 24.3mm
Capsule diameter: 26mm
Diaphragm gauge: 2 microns
170 Ohms (Low)
Max SPL: 155 dB
Self-noise: 14.0 dB(A)
| Weight | Length | Max Diameter | Interface(s) |
| --- | --- | --- | --- |
| 269g (9.49oz) | 186mm (7.32'') | 47mm (1.85'') | |
Power Specifications
Requires phantom power
Phantom voltage: 11–52v
Did we get anything wrong on this page? Please let us know!