Audio-Technica AT4040
Cardioid Condenser Microphone
The AT4040 is a FET condenser microphone with a fixed cardioid pickup pattern and a low-noise, transformerless output circuit.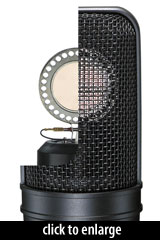 The capsule is an edge-terminated design, with a 2-micron diaphragm. It is mounted within an "acoustically open" headbasket to minimize sound-muddying reflections. Although it is described in some literature as a "large diaphragm" capsule, its active diaphragm area measures only 20.4mm in diameter, falling short of the traditional 25mm cutoff for the "large" classification.
The mic's amplifier circuit is constructed with surface-mount components; according to Electronic Musician, it was the first Audio-Technica microphone to use surface-mount rather than through-hole construction.
Audio-Technica

Technically-advanced [capsule] tensioned specifically to provide smooth, natural sonic characteristics
Externally polarized (DC bias) true condenser design
Exceptionally low noise, wide dynamic range and high-SPL capability for greatest versatility
Transformerless circuitry virtually eliminates low-frequency distortion and provides superior correlation of high-speed transients
Precision-machined, nickel-plated brass, acoustic element baffle provides enhanced element stability and optimal sensitivity
Open acoustical environment of the symmetrical housing assembly minimizes unwanted internal reflections
State-of-the-art surface-mount electronics ensure compliance with A-T's stringent consistency and reliability standards
Custom shock mount provides superior isolation
Switchable 80 Hz hi-pass filter and 10 dB pad
Electronic Musician, 2003

In tests, the 4040 gave me bright but smooth highs, flat or slightly scooped low mids, and solid lows beneath the scoop. These results are borne out by the mic's frequency plot… Also notable were the mic's exceptionally good transient response and relatively open cardioid pickup pattern.
The Audio-Technica AT4040 is also known as: 4040.
Specifications
Frequency Response - Cardioid

Click Graph to Compare!
Pickup Patterns
Pads & Filters
Cardioid (25.1 mV/Pa; 20-20,000 Hz)


Pad: -10dB (Via Switch)
Filter: HPF @ 80Hz (Via Switch)
Capsule Dimensions
Impedance
SPL/Noise
Diaphragm diameter: 20.4mm
Diaphragm gauge: 2 microns
100 Ohms (Low)
Max SPL: 145 dB
Self-noise: 12.0 dB(A)
| Weight | Length | Max Diameter | Interface(s) |
| --- | --- | --- | --- |
| n/a | 170mm (6.69'') | 53mm (2.09'') | |
Power Specifications
Requires phantom power
Phantom voltage: 48v
Did we get anything wrong on this page? Please let us know!