Apogee Electronics MiC
Cardioid Condenser Microphone
The MiC is a small-diaphragm studio condenser microphone designed for use with Apple's portable digital devices, such as the iPhone and iPad.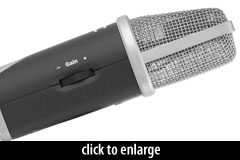 It was designed for ease of use, and has minimal controls: a gain knob on the side controls the input level, and a single LED lights up in one of five colors:
Blue = connected to hardware, but not attached to any recording applications on the host device
Dim green = Ready to record
Bright green = "Audio level is present"
Orange = nearly clipping
Red = Audio overload (clipping)
The MiC's circuit includes an analog preamp with 40dB of gain, and an analog-digital converter (ADC) that can operate at a maximum resolution of 24 bit, 48 kHz.
The MiC has no headphone jack; to monitor during recording, headphones must be attached to the host device.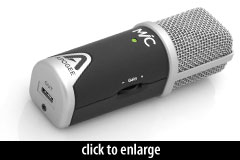 The connector on the bottom of the MiC is a multi-pin locking design that is proprietary to Apogee. The MiC ships with three interface cables:
0.5m 30-pin iOS cable
1m USB cable
Lightning cable (included since Aug 1, 2013)
A small desktop tripod stand is also included in the box.
According to Apogee, the MiC is compatible with all Apple iPads, and with iPhones version 4 and newer.
As a Core Audio compatible device, it can be used with Pro Tools versions 9 and newer, via a USB input.
The MiC was discontinued after the release of the 96k version of the device; see the MiC 96k profile.
Permalink: Apogee Electronics MiC
Specifications
| Pickup Patterns | Pads & Filters |
| --- | --- |
| Cardioid (n/a mV/Pa; n/a) | |
| Capsule Dimensions | Impedance | SPL/Noise |
| --- | --- | --- |
| Diameter n/a | n/a | |
Weight
Length
Max Diameter
Interface(s)
n/a
116mm (4.57'')
39mm (1.54'')

USB (1)
Apple 30-pin (iPhone 4) (1)
Apple Lightning (iPhone 5) (1)
Did we get anything wrong on this page? Please let us know!