AKG Acoustics C 414 B-XLS
Multi-Pattern Condenser Microphone
The C 414B-XLS is a transformerless multipattern FET condenser microphone. It is a descendant of AKG's classic C 414 microphone, but has little in common with the original beyond the name. To confuse matters, it is nearly identical to the C 414B-XL-II, differing only in its capsule and frequency response.
The two modern versions of the 414 mic differ in their application. The XL-II has a presence peak suitable for vocal applications, whereas the XLS has a flatter response, more suitable for instrument reproduction.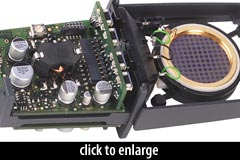 Features of the C 414 B-XLS include:
High sensitivity and extremely low self noise
Five switchable polar patterns for placement and application flexibility
Two-color LEDs provide quick visual indication of selected polar pattern and output overload
Elastic capsule suspension greatly minimizes structurally-transmitted noise from chassis vibration
H 85 professional shock mount/stand adapter, PF 80 external pop filter and W 414 X external windscreen.
Additional features:
High sound pressure level capability and wide dynamic range
Completely immune to electrostatic and electromagnetic interference from digital gear, computer monitors, etc. thanks to solid metal housing and transformerless output stage
Three switchable bass cut filters and three pre-attenuation pads with LEDs for quick visual indication
All switchable components operate in low impedance circuits for ultra-high reliability even in extremely humid conditions
Optional R 414 remote control unit (under development) offers full control of all switchable parameters via standard microphone cable and 3-pin XLR-type connectors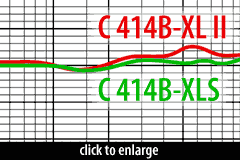 How does the C 414B XLS differ from the C 414B-XL-II?
As noted above, the XLS is the flatter-response version of the mic.
Contrary to some reports, both mics are transformerless, and in fact share all the same pads, filters, patterns, and parts (with few exceptions). The only differences we can discern are:
The grille is silver on the XLS, and gold on the XL-II.
The capsules are different. While both are descendants of the CK12 capsule, and both use the newer snap-and-glue, Teflon-ring construction technique, the part numbers differ: 2072Z0022 for the XLS, and 2072Z0023 for the XL-II. More importantly, the frequency response of the two mics is very different.
The C414 ships with a foam windscreen, elastic shockmount, and a pop filter in a metal flightcase.
Also available as a matched stereo pair; p/n C 414 B-XLS/ST.
Resolution, 2004

[T]he capsule suspension works extremely well in suppressing low-frequency mechanical vibration…

Testing [the B-XLS] against [B-ULS] on male vocals … suggests that the sound has moved toward one that is altogether sharper in character, with a little more exaggeration of the high-mids… The [B-XL II] emphasized this effect even more, but actually sounded a lot more convincing and smoother than the [B-XLS]…

It is a more modern sound, [and] is none the worse for it…
The AKG Acoustics C 414 B-XLS is also known as: C414B-XLS, C 414 B-XLS.
Specifications
Frequency Response - Omnidirectional

Click Graph to Compare!
Frequency Response - Cardioid

Click Graph to Compare!
Frequency Response - Hypercardioid

Click Graph to Compare!
Frequency Response - Bidirectional

Click Graph to Compare!
Frequency Response - Wide Cardioid

Click Graph to Compare!
Pickup Patterns
Pads & Filters
Omnidirectional (23 mV/Pa; 20 to 20,000 Hz)
Cardioid (23 mV/Pa; 20 to 20,000 Hz)
Hypercardioid (23 mV/Pa; 20 to 20,000 Hz)
Bidirectional (23 mV/Pa; 20 to 20,000 Hz)
Wide Cardioid (23 mV/Pa; 20 to 20,000 Hz)


Pad: -6 dB pad (Via Switch)
Pad: -12 dB pad (Via Switch)
Pad: -18 dB pad (Via Switch)
Filter: -12 dB/octave @ 40 Hz (Via Switch)
Filter: -12 dB/octave @ 80 Hz (Via Switch)
Filter: -6 dB/octave @160 Hz (Via Switch)
Capsule Dimensions
Impedance
SPL/Noise
Diaphragm diameter: 24mm

200 Ohms (Low)
Max SPL: 200 dB
Self-noise: 6.0 dB(A)
| Weight | Length | Max Diameter | Interface(s) |
| --- | --- | --- | --- |
| 300g (10.58oz) | 160mm (6.30'') | 50mm (1.97'') | |
Power Specifications
Requires phantom power
Phantom voltage: 48v
Did we get anything wrong on this page? Please let us know!