Win a Sterling Audio ST59 Multipattern LDC!
The above headline is misleading. You'd think we're giving away a microphone. It's not exactly true.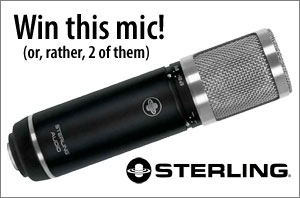 Because we're actually giving away two of them.
I'll go out on a limb here and say that every studio needs a pair of multipattern condensers. It's not a long limb, though. These mics are true problem-solvers.
Put 'em up as drum overheads. Or stereo mics on acoustic guitar. Or stereo room mics for any instrument. Or two figure-8s, one on the voice and the other on the guitar, with great isolation between them.
Need better mono compatibility? No problem; set up a mid-side array. Have a great-sounding space you want to capture? Fine, you've got Blumlein, or spaced Omnis, or ORTF. A pair of multipattern condensers gives your a ton of recording options.
Now to the Sterling ST59: it's nothing less than a premium FET condenser, based on the groundbreaking design work of Aspen Pittman (best known as the founder and head designer for Groove Tubes).
The ST59 uses Sterling's exclusive "disk resonator" capsule design. Its 3-micron membrane is half the thickness and weight of traditional condenser microphone membranes. This thin film provides exceptional sensitivity and transient response. Mounted to the center of the diaphragm is a resonator disk, which increases the mic's sensitivity to high-frequency sounds without causing harsh peaks in the frequency response.
The output circuit uses a transformer, which contributes to the mic's reputation for having a "warm, vintage" sound. If you're looking for a sterile, hyped condenser, this isn't it! (No, of course nobody looks for hyped, sterile-sounding microphones. So how did we all end up with so many of them?)
High-quality parts and high-touch processes are used throughout the ST59: capsules are handbuilt, then pre-aged to ensure long-term stability; bodies are cut from brass stock, then nickel plated; grille assemblies are formed from stainless steel.
Read more about the ST59 at Sterling Audio's website.
If you received this newsletter in the mail, you're already entered for the ST59 giveaway. The winner will be selected by random drawing from among the MIC NEWS subscribers who have opened and read this newsletter. If you can't see the photos in this message, tell your email app "show images" to be sure your entry is registered.
No purchase is necessary for entry; just subscribe here if you haven't already. The giveaway is void where prohibited.