Telefunken Elektroakustik U-47
Multi-Pattern Tube Condenser Microphone
The Telefunken Elektroakustik U 47 is a recreation of the Neumann U 47. Both are dual-pattern, large-diaphragm tube condensers.
The capsule is a Thiersch M7, a center-terminated capsule whose diaphragm is glued to the backplate. Both Mylar and PVC-diaphragm M7 capsules are available.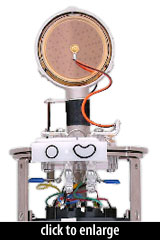 A switch on the mic body allows selection of two polar patterns: Cardioid and Omnidirectional. (The U48 offered Cardioid and Figure-of-8 patterns.)
The transformer is described as a BV8. Its origins are unknown.
The tube is a modern recreation of the Telefunken VF-14M, called the VF-14K. It is a plug-and-play replacement for the original, and can be used without circuit or socket modifications in a VF-14M microphone. According to Telefunken Elektroakustik, their VF-14K is made by retrofitting a NOS glass tube into the VF-14's metal jacket, and matching the VF-14 pinout. A frequency-response graph comparing the VF-14K to a VF-14M in a vintage U47 shows less than 1.5dB of variation from 70Hz–24kHz; the VF-14K has slightly more LF output below 70Hz.
How does the Telefunken Elektroakustik U47 differ from the company's U47M?
We see two differences:
The U47M includes a "modern," low-profile power supply. The U47 includes a vintage-style power supply.
The U47M uses an EF-14 tube, whereas the U47 uses Telefunken Elektroakustik's reproduction of the VF-14 metal tube, called the VF-14K.
Like its vintage namesake, this U47 ships configured for 200Ω, but can be modified to operate at 50Ω.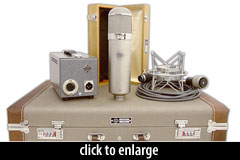 The U47 ships in a padded wooden storage case with a vintage-style PSU, cables, and elastic shockmount in a locking suitcase.
Permalink: Telefunken Elektroakustik U47
Specifications
Pickup Patterns
Pads & Filters
Omnidirectional (12 mV/Pa; 20 - 20,000 Hz)
Cardioid (12 mV/Pa; 20 - 20,000 Hz)

Capsule Dimensions
Impedance
SPL/Noise
Diameter n/a

200 Ohms (Low)
Max SPL: 138 dB
Self-noise: 24.0 dB(A)
| Weight | Length | Max Diameter | Interface(s) |
| --- | --- | --- | --- |
| 624g (22.01oz) | 248mm (9.76'') | 57mm (2.24'') | |
Power Specifications
Includes tube power supply
Did we get anything wrong on this page? Please let us know!