Telefunken Elektroakustik Ela M 14
Cardioid Tube Condenser Microphone
Telefunken USA's Ela M 14 was a side-address, fixed-cardioid tube microphone. It utilized some of the same circuitry and components of the multipattern flagship tube mic, the Ela M 12 (an AKG C12 reproduction).
Thus, unlike most of Telefunken USA's mics at that time, the M14 was not a replica or historical reproduction of a vintage mic, but rather as an original new design that attempted to deliver comparable sonic performance at much lower cost.
The initial configuration, announced in 2003 at $2995, included the company's CK-12-inspired capsule (aka TK-12), a custom Haufe T-14/1 transformer, and a NOS Telefunken EF732 tube.
The specs were later changed to use a NOS GE JAN 6072a tube.
The mic was discontinued in early 2005, likely due to the introduction of the RFT-16, which offered large-diaphragm tube performance at roughly half the price (due to the outsourcing of manufacturing to China). The RFT-16 product page actually replaced the M14 page on the Telefunken USA website, such that anyone looking for the M14 would find the RFT-16 instead.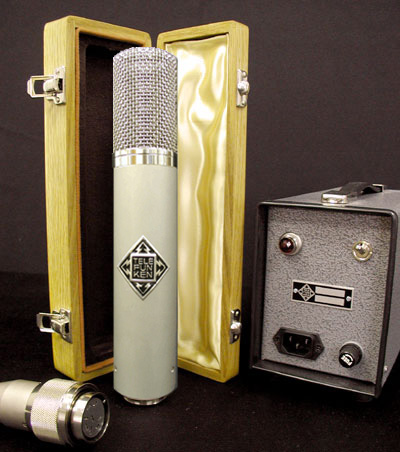 The mic shipped in a padded wooden box, with a power supply, swivel-mount power cable, and a flight case.
The Telefunken Elektroakustik Ela M 14 is also known as: M14.
The mic was released in 2003.
Specifications
| Pickup Patterns | Pads & Filters |
| --- | --- |
| Cardioid (n/a mV/Pa; n/a) | |
| Capsule Dimensions | Impedance | SPL/Noise |
| --- | --- | --- |
| Diameter n/a | n/a | |
| Weight | Length | Max Diameter | Interface(s) |
| --- | --- | --- | --- |
| n/a | n/a | n/a | |
Power Specifications
Includes tube power supply
Did we get anything wrong on this page? Please let us know!