Telefunken Elektroakustik C-12
Multi-Pattern Tube Condenser Microphone
Telefunken Electroakustik's C-12 is a historically-accurate reproduction of AKG's famous C-12 microphone. It is a large-diaphragm, multipattern tube condenser built around a reproduction CK12-style capsule.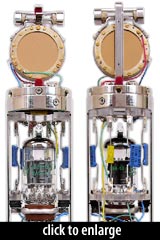 The mic was originally introduced as the "Ela M 12" in 2003, at a price of $5999. It has been packaged in a variety of different ways over the years.
In 2003, the mic had a "CK-12" capsule and a NOS 6072 tube.
In 2004-2005, the mic had a "TK-12" capsule.
In 2006, the "CK-12" capsule returned.
In 2006, the "F" or "no frills" version was announced. This edition used the TK-12 capsule and a modern PSU. The mic shipped with fewer accessories.
The tube was changed to an ECC81 at some point.
The F series of mics was discontinued in 2009.
Further, three different power supplies have been available over the years:
A historically-accurate model, with an external pattern-switching device in its own housing.
A vintage-design model, with integrated pattern switch. This is the model currently shipping (as of mid 2009).
A "modern" design, which sounds the same as the others but uses a less-expensive housing. This model was included with the "F" series version of the M12, which was discontinued in June, 2009.
The currently-shipping capsule is Telefunken Elektroakustik's reproduction of the AKG CK-12. Telefunken Elektroakustik founder Toni Fishman posted some background information on the complexity of recreating the CK12 capsule; see the sidebar link to the Ela M 251E profile for more on this.
The company's "TK-12" capsule was a variation on the CK-12; it had cosmetic differences and, according to the company FAQ, used "modern techniques and standard parts (molded plastics and assembly screws)". Telefunken Elektroakustic representatives claim the two capsule types sound and perform identically. As noted above, the TK-12 capsule has been discontinued (as of mid-2009).
The mic has 9 pickup patterns, switched via the tube power supply.
The output transformer is a T14-style unit, wound by Haufe to Telefunken's specifications. The same transformer is used in the company's 251 mics, as well as the AR-51.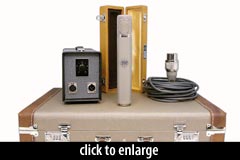 The mic ships in a padded wooden storage box, with a power supply and cable in a vintage-style suitcase.
Historical purists note that Telefunken never sold the C12 microphone, which was designed, built and branded by AKG (although some were cobranded by Siemens, such as the one at Electrical Audio). We speculate that this is the reason this microphone was originally named "Ela M 12."
The Ela M 12 / C12, like all of Telefunken Elektroakustik's "Platinum Series" mics, is covered by a transferable, limited lifetime warranty. The tube is covered by a 90-day warranty.
The Telefunken Elektroakustik C-12 is also known as: M12, Ela M 12.
The mic was released in 2003.
Specifications
Pickup Patterns
Pads & Filters
Omnidirectional (n/a mV/Pa; 20 - 20,000 Hz)
Cardioid (n/a mV/Pa; 20 - 20,000 Hz)
Bidirectional (n/a mV/Pa; 20 - 20,000 Hz)

Capsule Dimensions
Impedance
SPL/Noise
Diaphragm diameter: 25mm
Diaphragm gauge: 10 microns
200 Ohms (Low)
Max SPL: 138 dB
Self-noise: 16.0 dB(A)
| Weight | Length | Max Diameter | Interface(s) |
| --- | --- | --- | --- |
| 567g (20.00oz) | 254mm (10.00'') | 41mm (1.61'') | |
Power Specifications
Includes tube power supply
Did we get anything wrong on this page? Please let us know!