Studio Projects cs5
Multi-Pattern Condenser Microphone
Studio Projects' cs5 is a multipattern FET condenser microphone with an accurate rather than colored or hyped response. It is a dual-diaphragm, multipattern version of the company's CS1.
Its dual-diaphragm capsule can be switched among five pickup patterns (Omni, Wide Cardioid, Cardioid, Hypercardioid, Figure-of-8) via a thumbwheel on the mic body, but be aware that this can cause a large transient that could damage monitors if the channel is not muted.
The capsule is a 34mm center-terminated model with the characteristic backplate hole pattern of the Neumann K67. The two diaphragms measure 27mm in diameter, and are made of 6-micron Mylar.
Onboard switches provide access to a 5-way pad (-0dB, -5dB, -10dB, -15dB, -20dB), a 5-way high-pass filter (flat, -6dB/octave at 50Hz, 75Hz, 150Hz, 300Hz), and a 5-way low-pass filter (flat, -6dB/octave at 3kHz, 5kHz, 7kHz, 15kHz). The HPF and LPF can be engaged independently (meaning, it's possible to use both at once).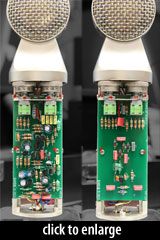 The mic's amplifier circuit is relatively quiet at 13dBA of self-noise. It has a transformerless output circuit.
The CS-5 ships with a shockmount, foam windscreen, and carrying case.
EQ Magazine, 2008

While the CS5, due to her range of features, is very versatile and can hold her own on nearly every session, she's also brutally honest… As long as you have a good source, you'll get a good sound with the CS5…
Electronic Musician, 2008

The CS5 can be tailored to suit a variety of sound sources and high-volume situations. With its array of selectable patterns, pads, and filters, not to mention a street price of around $850, the CS5 offers maximum versatility at a reasonable cost. What's not to like about that?
The Studio Projects cs5 is also known as: CS-5.
The mic was released in 2007.
Specifications
Frequency Response - Omnidirectional

Click Graph to Compare!
Frequency Response - Cardioid

Click Graph to Compare!
Frequency Response - Hypercardioid

Click Graph to Compare!
Frequency Response - Bidirectional

Click Graph to Compare!