Sterling Audio ST69
Multi-Pattern Tube Condenser Microphone
The ST69 is a high-sensitivity, large-diaphragm multipattern tube microphone with Sterling Audio's "Disk Resonator" capsule.
The capsule is common to several of the company's large-diaphragm mics. It is a dual-diaphragm, center-terminated K67-type capsule with 3-micron diaphragm material. A small (~1cm) brass disk is mounted to the center of the diaphragm to increase the capsule's sensitivity to high-frequency sounds; the result, according to the manufacturer, is that the capsule does not exhibit a rolloff above 14kHz as would otherwise be the case.
The published frequency-response graphs are much flatter through the high frequencies than is normally the case with K67-based condenser microphones.
The tube is a subminiature 6205 pentode, branded Groove Tubes GT6205 in the MIX magazine review sample, and is reportedly wired as a triode. Because this tube is soldered to the circuit (as are all submini tubes), aftermarket tube swaps or replacements are not recommended.
The mic's output circuit uses a transformer described as "custom-wound nickel core, optimized for the ST69."
The cylindrical body is machined from stainless steel, with a 2-layer metal mesh grille. Two two-way switches on the front of the microphone body control the pad (-10dB) and high-pass filter (-12dB/octave @ 75Hz). A three-way switch on the rear of the mic body allows selection of Cardioid, Omnidirectional, or Figure-8 polar patterns.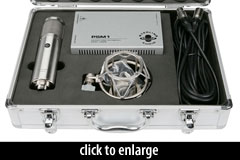 The mic includes a power supply (p/n STPSM1) and 7-pin cable, an elastic shock mount (p/n SM-4), and a padded metal flight case.
The ST69 appears prominently in the hit Youtube video of Karmin covering Chris Brown's Look At Me Now.
MIX, 2009

In cardioid, the mic had a smooth, mostly flat [and] natural sound, with a slightly rising (+2dB) upper midrange boost around 5 to 8k Hz and extended HF "air" out well beyond 12 kHz. There was no need for EQ here, and I had the same experience in recording flute and acoustic guitar overdubs. The result was full and round with plenty of top articulation that made the tracks sound like the instrument in the room.
Permalink: Sterling Audio ST69
The mic was released in 2009.
Specifications
Pickup Patterns
Pads & Filters
Omnidirectional (30 mV/Pa; 20 - 20,000 Hz)
Cardioid (30 mV/Pa; 20 - 20,000 Hz)
Bidirectional (30 mV/Pa; 20 - 20,000 Hz)


Pad: -10dB (Via Switch)
Filter: HPF: -12dB/octave @ 75Hz (Via Switch)
Capsule Dimensions
Impedance
SPL/Noise
Diameter n/a
Diaphragm gauge: 3 microns
n/a
Max SPL: 140 dB
Self-noise: 23.0 dB(A)
| Weight | Length | Max Diameter | Interface(s) |
| --- | --- | --- | --- |
| 544g (19.19oz) | 190mm (7.48'') | 46mm (1.81'') | |
Power Specifications
Includes tube power supply
Did we get anything wrong on this page? Please let us know!