Shure MV51
Cardioid Condenser Microphone
The MV51 is a compact condenser microphone intended for desktop and project studio use. It is part of Shure's MOTIV line of digital audio solutions, introduced in 2015.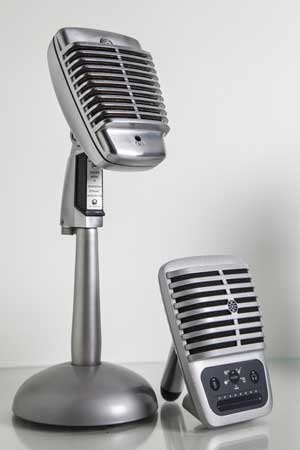 The MV51's model name and design are an intentional homage to the Shure Model 51, an omnidirectional dynamic made in the late 1960's. According to product specialist Soren Pedersen, one of the design goals for the MOTIV product line was to promote Shure's long heritage by borrowing visual and industrial design cues from well-known and loved vintage Shure models.
The MV51 combines a large-diaphragm electret capsule with onboard DSP (digital signal processing) and a USB/Lightning interface. A group of buttons on the front of the microphone allows selection of several included DSP modes, which configure the microphone for various common applications: Speech/Podcasting, Singing, Quiet Acoustic Music, Loud Music, Flat. The four DSP presets control equalization and compression, but not gain. The "Flat" mode disables all DSP control.
The control panel on the microphone contains an 8-segment, dual-color LED bar; in normal operation, the LEDs show the mic's input level in green.
Below the LED bar is a unique volume control slider, called a "capacitive touch panel." In normal operation, sliding a finger along this device sets the mic's gain level. In Headphone mode, the LED strip turns from green to orange, and the touch slider controls headphone volume.
The rear panel of the mic contains a 1/8'' headphone jack, which plays the mic's input signal and the host computer's output signal at equal volumes.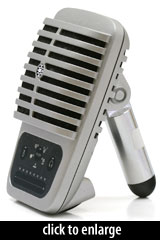 A rubber-tipped kickstand is attached to the back side of the microphone. The kickstand leg is threaded internally; removing the rubber tip allows the leg to be attached to a mic stand for studio use.
The case of the MV51 is metal, and is built to survive Shure's aggressive battery of durability tests.
The MV51 ships with a USB cable (p/n AMV-USB), a Lightning cable for connection to iPhones and iPads (p/n AMV-LTG), and a European mic stand thread adapter.
The mic can be used with the native audio controls built into modern Macintosh, Windows PC, and iOS devices, or can be used in conjunction with Shure's "ShurePlus Motiv" iOS app.
Permalink: Shure MV51
The mic was released in 2015.
Specifications
| Pickup Patterns | Pads & Filters |
| --- | --- |
| Cardioid (11.2 mV/Pa; 30 - 20,000 Hz) | |
| Capsule Dimensions | Impedance | SPL/Noise |
| --- | --- | --- |
| Diaphragm diameter: 25mm | n/a | |
Weight
Length
Max Diameter
Interface(s)
575g (20.28oz)
128mm (5.04'')
n/a

USB (1)
Apple Lightning (iPhone 5) (1)
Did we get anything wrong on this page? Please let us know!