Schoeps Mikrofone V4 U
Cardioid Condenser Microphone
The Schoeps V4 U is a studio vocal microphone designed with modern electronics and vintage styling. The oblong, tilting head is borrowed from Schoeps' classic 1951 tube microphone, the "CM 51/3," while the circuit is all-new.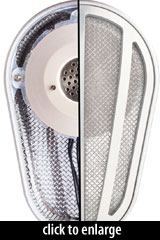 The capsule is a small-diaphragm design, mounted within a beveled ring that introduces frequency-dependent changes to the native polar pattern of the capsule. According to Schoeps, "[the] 33-mm beveled collar causes the capsule's directivity to increase steadily and smoothly at high frequencies, as in a large-diaphragm microphone."
The combination is intended to produce a very consistent Cardioid polar pattern in the low and mid frequencies, with a narrowing of sensitivity to higher frequencies above 6kHz.
This capsule assembly is said to be shockmounted to prevent mechanical noise, although visual inspection of the capsule mount reveals little room for suspended movement.
Attached to the back of the single-sided capsule is a tiny surface-mount circuit board with the JFET and associated high-impedance circuitry. Locating this so close to the capsule presumably reduces capacitance losses, maximizing sensitivity and signal-to-noise ratio.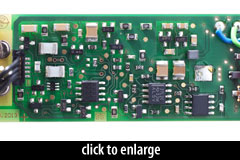 The mic's circuit is transformerless, and is implemented with surface-mount electronics and multiple IC chips. It is described by Schoeps as symmetrical and balanced, with high RFI immunity. It is built without coupling capacitors.
The mic's noise figure (15dBA) is excellent for a small-diaphragm design.
In another nod to its design inspiration, the CM 51/3, the V4U's head can be tilted forward or backward (±20°) with respect to the body. (The CM51 had a ±30° tilt.)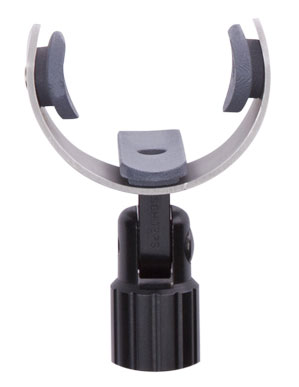 The V4 U is available in two body colors, blue or gray, and in two packages (both priced at MSRP $3069):
V4 SGV Set - includes the microphone, the unique SGV hard mount (pictured at right), and a wooden storage case for the microphone
V4 USM Set - includes the microphone, a custom version of Rycote's USM shockmount, with Lyre suspension chosen specifically for the weight of the V4 U, and a wooden storage case
Resolution, 2013

Initial impressions are that it sounds clear, precise and surprisingly rich… In general the V4 U seems to work in vocal and other applications … with a little bit of space, but the surprising thing is just how good it sounds when you do. There's still a terrific sense of focus on the source, but a depth to the sound and any space it's in that never intrudes or sounds dissonant…
The Schoeps Mikrofone V4 U is also known as: V4U.
The mic was released in 2013.
Specifications
Frequency Response - Cardioid

Click Graph to Compare!
| Pickup Patterns | Pads & Filters |
| --- | --- |
| Cardioid (16 mV/Pa; 50 - 22,000) | |
Capsule Dimensions
Impedance
SPL/Noise
Diameter n/a

97 Ohms (Low)
Max SPL: 144 dB
Self-noise: 15.0 dB(A)
| Weight | Length | Max Diameter | Interface(s) |
| --- | --- | --- | --- |
| 302g (10.65oz) | 194mm (7.64'') | n/a | |
Power Specifications
Requires phantom power
Phantom voltage: 48v
Did we get anything wrong on this page? Please let us know!