SE Electronics RNT
Multi-Pattern Tube Condenser Microphone
The RNT is the third mic made in collaboration between sE Electronics and Rupert Neve. (See the RNR1 ribbon and sERN 17.)
The mic uses a new capsule design that appears from the photos to be based on Neumann's K67. Although details of the capsule design have not been released, the preliminary description cites the capsules high SPL handling ability.
The mic's tube is described as a hand-selected 12AU7 dual triode. We assume that the mic uses a Neve output transformer.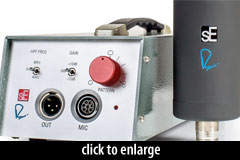 The power supply unit, dubbed the "floor box," offers a 3-way high-pass filter (40Hz, 80Hz), and an unusual 3-way pad/gain switch (-12dB, 0dB, +12dB). The gain stage is an op-amp design based on Neve's 5088 console, and is described as having flat frequency response from 1Hz–30kHz.
The third control on the power supply is a 9-position polar pattern switch.
The PSU connects to the mic with what appears to be an 8-conductor cable, rather than the more common 7-pin XLR.
The RNT was announced at Musikmesse 2015. As of March, 2016, a ship date has not been announced.
We will update this profile as more information becomes available.
Permalink: SE Electronics RNT
The mic was released in 2015.
Specifications
Pickup Patterns
Pads & Filters
Omnidirectional (n/a mV/Pa; 20 - 20,000 Hz)
Cardioid (n/a mV/Pa; 20 - 20,000 Hz)
Bidirectional (n/a mV/Pa; 20 - 20,000 Hz)


Pad: -12dB (Via Switch)
Filter: HPF @ 40Hz (Via Switch)
Filter: HPF @ 80Hz (Via Switch)
| Capsule Dimensions | Impedance | SPL/Noise |
| --- | --- | --- |
| Diameter n/a | n/a | |
| Weight | Length | Max Diameter | Interface(s) |
| --- | --- | --- | --- |
| n/a | n/a | n/a | |
Power Specifications
Includes tube power supply
Did we get anything wrong on this page? Please let us know!