Ronin Applied Sciences Pegasus
Multi-Pattern Tube Condenser Microphone
The Pegasus is a high-end multipattern tube condenser microphone, built with some unusual components and an innovative amplifier circuit design. It was developed by Ronin Applied Sciences founder Dimitri Wolfwood, with contributions from Tony Merrill of Stephen Paul Audio.
Other notable industry luminaries who have contributed to this microphone include Mark Fouxman and George Cardas.
The mic's capsule is a customised K47 type. The 33.8mm backplate incorporates modifications designed by Tony Merrill; all backplate machining is done in the US. The diaphragms are 1.2-micron Mylar, sputtered with gold.
Tony Merrill

The basic idea behind the capsule is that the low-mass diaphragms, in concert with the careful re-tuning of the acoustic properties in the custom backplate, provide a clearer, more detailed, higher resolution [sound]… This is made possible by the lower inertia of the diaphragm itself, allowing more precise, extended, smoother-sounding high frequencies, with less overshoot and ringing and virtual elimination of harshness and brittleness.
The microphone's amplifier circuit is unique for a number of reasons. It is an inductor-loaded circuit that passes much higher voltage to the tube than is typical for tube amplifier designs. This creates an extremely high-headroom, low distortion amplifier.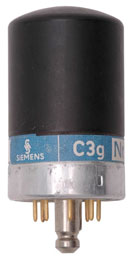 The tube is a NOS Siemens C3G, which contains a glass tube inside a steel housing. It is a low-noise, long-life, high-amplification pentode tube that according to Tony Merrill has never been used in a microphone before. In the Pegasus circuit, the tube is run as a pentode.
At ~16 mV/Pa, the Pegasus has a sensitivity rating that is in line with most studio condensers. Yet when given a sufficiently loud source, the mic's extreme dynamic range allows it to output a line-level signal without distortion.
Although the mic has no pad, there is the option of having a "stepped, resistive ladder attenuator" installed in the power supply, essentially providing another level of gain control.
The company's philosophy is to avoid the use of electrolytic, polystyrene, tantalum or mica capacitors within the microphone; as a result, the caps in the Pegasus are film capacitors. The output capacitor is a custom-designed oil impregnated polypropylene film capacitor, made in the US.
The output transformer is a custom tape-wound toroidal type, made in the US with an 80% nickel core. This transformer was developed and is manufactured by Samar Audio Design. The Pegasus is the first tube condenser microphone we've seen with a toroidal output transformer.
The microphone body is machined in the US by Latch Lake. The finish incorporates mother-of-pearl inlay on the microphone body, provided by Larry Robinson of Robinson Custom Inlays.
The mic's power supply contain some unusual circuitry. According to Wolfwood, it "uses tube rectification and tube regulation in the B+ as well as a discrete, Jung inspired, heater regulator."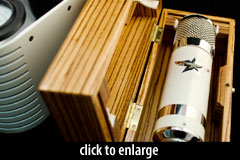 The Pegasus ships with a custom Cardas cable, a tube-regulated power supply, a die-cut Zebrawood storage box for the microphone, and a "steamer trunk" carrying case. A 5-year warranty covers the electronics and is transferrable. The capsule is warrantied for 1 year. Ronin will maintain a stock of replacement tubes, and guarantees availability of a minimum of two replacement tubes per microphone.
Originally announced at $4200, the mic's price was raised to $5500. Although the mic was announced with a limited release target of 100 units, fewer than 10 of these microphones were ever produced.
Permalink: Ronin Applied Sciences Pegasus
The mic was released in 2011.
Specifications
Pickup Patterns
Pads & Filters
Omnidirectional (n/a mV/Pa; 20 - 20,000 Hz)
Cardioid (15.9 mV/Pa; 20 - 20,000 Hz)
Bidirectional (n/a mV/Pa; 20 - 20,000 Hz)

Capsule Dimensions
Impedance
SPL/Noise
Diaphragm diameter: 28mm
Capsule diameter: 33.8mm
Diaphragm gauge: 1.2 microns
68 Ohms (Low)
| Weight | Length | Max Diameter | Interface(s) |
| --- | --- | --- | --- |
| 1814g (63.99oz) | 247mm (9.72'') | 60mm (2.36'') | |
Power Specifications
Includes tube power supply
Did we get anything wrong on this page? Please let us know!