M-Audio Sputnik
Multi-Pattern Tube Condenser Microphone
The M-Audio Sputnik is a large diaphragm tube condenser with three switchable polar patterns. The mic uses an American-made 6205M pentode vacuum tube wired as a triode.
The capsule consists of two 1-inch evaporated gold coated Mylar diaphragms with a brass backplate for each. The diaphragm thickness is 3 microns.
Paul White - Sound On Sound 2006
Overall, I think this mic embodies most of the desirable characteristics of a classic tube model… the Sputnik manages to strike a good balance between flattery and apparent tonal neutrality.
Joel Patterson - Tape Op 2007
On acoustic guitar, you hear not only the strings and the musical tones, but the subtlest details of the playing; this can be startling on the first playback, to hear not only the song, but the cues to that unique performance. Okay, "scary" is the word. Using a pair of these in my favorite piano-mic'ing configuration, tight on the frame of a 9 ft Bósendorfer… the result was rapturous and mesmerizing and unspeakably gorgeous, delivering a "glowing, pealing" sound.
The non-resonant body is machined from solid brass and finished with hand polished nickel.
M-Audio claim every Sputnik is manufactured to be within a 1.5dB tolerance of the published specifications and that any two Sputnik microphones could be considered a matched pair.
Mike Hiratzka - Remix 2006
M-Audio put its reputation on the line by comparing the Sputnik to some of the most venerated microphones in the business, and as a result, it will likely receive a lot of attention and scrutiny. After using this mic, and given my previous experience with a wide variety of its world-class competitors, I can understand M-Audio's confidence in its product. All comparisons aside, the Sputnik is a microphone that you can trust to deliver a beautiful, transparent take on every session. After all, that's what really matters.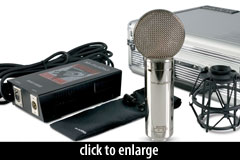 The MSRP of the Sputnik has fluctuated over the years, debuting at $899, dropping to $699 for a short time before hitting $999 where it has remained from 2010 to present.
The Sputnik is packaged in a foam-lined metal briefcase with a shockmount; 7-pin cable; power supply; and cloth bag.
Permalink: M-Audio sputnik
The mic was released in 2006.
Specifications
Pickup Patterns
Pads & Filters
Omnidirectional (30 mV/Pa; 20-20,000 Hz)
Cardioid (30 mV/Pa; 20-20,000 Hz)
Bidirectional (30 mV/Pa; 20-20,000 Hz)


Pad: -10dB (Via Switch)
Filter: 80Hz HPF (12dB/octave) (Via Switch)
Capsule Dimensions
Impedance
SPL/Noise
Diaphragm diameter: 25mm
Diaphragm gauge: 3 microns
200 Ohms (Low)
Max SPL: 142 dB
Self-noise: 18.0 dB(A)
| Weight | Length | Max Diameter | Interface(s) |
| --- | --- | --- | --- |
| n/a | n/a | n/a | |
Power Specifications
Includes tube power supply
Did we get anything wrong on this page? Please let us know!