Lewitt Audio LCT 550
Cardioid Condenser Microphone
The LCT 550 is a large-diaphragm condenser billed as "the quietest microphone in the world." With no capsule attached, the self-noise of the electronics measures 0dBA. The capsule, like any capsule, increases the noise floor due to the sound of air molecules impacting the transducer; according to Lewitt, the 550's self-noise with capsule attached measures below 3dBA.
(See our listing of all low-noise condensers, and the listing of the top 10 lowest-noise condensers.)
Like the other microphones in Lewitt's LCT series, the 550 employs an electronic pushbutton system to configure the pad (-6dB, -12dB) and high-pass filter (80Hz, 160Hz).
The pad is "non-capacitative;" rather than switching small-value capacitors in parallel with the capsule, as is commonly done, the LCT-550 instead lowers the polarization voltage to the capsule to effect the change in sensitivity. (The same approach is used in Neumann's new TLM 107.)
Like the LCT-640, the 550 has a "clipping history" feature to warn the user when its circuit clipped due to a loud transient. It also has an automated pad feature that selects progressively higher pad values when it detects such transients, to protect the track from clipping distortion.
The mic's capsule is, according to Lewitt, a "fine-tuned" version of the Cardioid capsule in the LCT-540. It is a center-terminated design, presumably based on the dual-backplate K67 capsule, with an outside diameter of 33mm.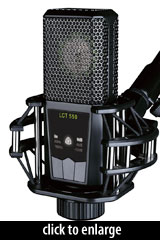 The LCT-550 ships with Lewitt's proprietary shockmount, which allows the mic to be positioned with its face flush against a sound source (such as a guitar cabinet) if desired.
We will update this profile over the coming days as more information becomes available; we'll also have inside information about how Lewitt engineers achieved this microphone's remarkable reduction in self-noise.
Permalink: Lewitt Audio LCT-550
The mic was released in 2014.
Specifications
Pickup Patterns
Pads & Filters
Cardioid (35.5 mV/Pa; 20 - 20,000 Hz)


Pad: -6dB (Via Switch)
Pad: -12dB (Via Switch)
Filter: HPF: -12dB/octave @ 80Hz (Via Switch)
Filter: HPF: -6dB/octave @ 160Hz (Via Switch)
Capsule Dimensions
Impedance
SPL/Noise
Diaphragm diameter: 25.4mm
Capsule diameter: 33mm

n/a
Max SPL: 155 dB
Self-noise: 3.0 dB(A)
| Weight | Length | Max Diameter | Interface(s) |
| --- | --- | --- | --- |
| n/a | 158mm (6.22'') | n/a | |
Power Specifications
Requires phantom power
Phantom voltage: 48v
Did we get anything wrong on this page? Please let us know!