Lewitt Audio DTP 640 REX
Combination Microphone
The 640 REX is a dual-element microphone designed specifically for use on kick drums. It is conceptually similar to Audio-Technica's ATM250DE, in that it has both a dynamic and a condenser capsule, each tuned to capture a different aspect of the drum's sound.
The large-diaphragm dynamic capsule measures 31.7mm, and has a sensitivity of 2.5mV/Pa. Its frequency-response curve is similar to many kick-drum mics, with suppressed mids. The LF peak ranges from 80Hz–150Hz. The HF peak ranges from 4kHz–14kHz. It captures the attack of the drum, likely without a lot of body.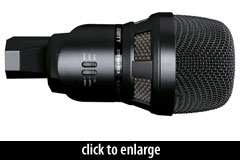 The condenser element is a medium-diaphragm, back-electret design, with a diameter of 22.4mm and a sensitivity of 6.3mV/Pa. Its native frequency-response is flat from 30Hz to nearly 2kHz, with a ~3dB presence peak above 2kHz. It primarily captures the resonance of the drum shell.
In 2012, the DTP 640 REX was designed to incorporate an additional EQ option, called the EFR or Enhanced Frequency Response feature. It enables a passive EQ circuit on the dynamic cartridge to emphasize the frequencies from 70–150Hz and 3–5kHz, making the mic even more tailored for miking kick drums.
The self-noise of the condenser capsule is high at 26dBA, but in a high SPL environment like a kick drum, this is unlikely to present problems.
Switches on the mic body alter the response characteristics of the condenser capsule and its head amp. A 3-way pad offers -10dB and -20dB attenuation. A second 3-way switch provides a high-pass filter; when enabled, it rolls off the low end at 12dB per octave below either 40Hz or 80Hz.
The two capsules have individual outputs, via a 5-pin XLRM jack on the microphone body. The mic includes a 4m breakout cable, XLR-5F to 2xXLR-3M.
The Lewitt Audio DTP 640 REX is also known as: DTP-640-REX.
The mic was released in 2010.
Specifications
Frequency Response - Cardioid (Dynamic element)

Click Graph to Compare!
Frequency Response - Cardioid (Condenser element)

Click Graph to Compare!
Pickup Patterns
Pads & Filters
Cardioid (2.5 mV/Pa; 20 - 16,000 Hz)
Cardioid (6.3 mV/Pa; 20 - 20,000 Hz)


Pad: -10dB (Via Switch)
Pad: -20dB (Via Switch)
Filter: HPF: -12dB/octave @ 40Hz (Via Switch)
Filter: HPF: -12dB/octave @ 80Hz (Via Switch)
Capsule Dimensions
Impedance
SPL/Noise
n/a
n/a
Max SPL: 168 dB
Self-noise: 26.0 dB(A)
| Weight | Length | Max Diameter | Interface(s) |
| --- | --- | --- | --- |
| 725g (25.57oz) | 158mm (6.22'') | 71mm (2.80'') | |
Power Specifications
Requires phantom power
Phantom voltage: 48 ± 4v
Did we get anything wrong on this page? Please let us know!