Lauten Audio LT-321 Horizon
Cardioid Tube Condenser Microphone
Lauten Audio's LT-321 "Horizon" is a large-diaphragm, fixed-cardioid tube microphone with unusually high sensitivity (32 mV/Pa) and high output.
The mic body is milled brass; reviewers comment on the excellent fit and finish.
Brian Loudenslager

It is built like a tank.
The mic's high output level, which can be padded back by -10dB OR -20dB via a switch on the mic body, makes getting a good sound less reliant on having a high-end mic pre in the signal path.
The large-diaphragm capsule measures 32mm in diameter, with a 26mm diaphragm made of imported German Mylar from Dupont.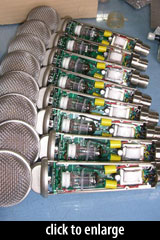 The amplifier circuit uses a military-grade NOS pentode, a 6J1, as does the input stage of Lauten's dual-tube Oceanus. These tubes were considered "scientific" grade when manufactured by Peking Electron in the early 1980s, and compare to a Mullard M8100.
The output circuit uses a custom-wound transformer (source unknown).
The Horizon ships with its dual-voltage (115v/230v) tube-mic power supply, a Gotham power cable, a mic clip, an elastic shockmount, a storage pouch for the mic, and a flight case.
Recording Magazine

The Horizon excelled on percussive applications such as toms,tablas,congas and djembe.It worked especially well as an external kick-drum mic … where it captured large tight lows without sounding muffled or muddy. It is equally nice on tambourine and cymbals where crispness sans harshness is desired.

Using it on a guitar amp in tandem with a Shure SM57, one guitarist exclaimed that this was the best recorded guitar sound he had ever gotten…

With a pop filter six inches from the mic to control sibilance and plosives, the Horizon could easily become my go-to mic for
most voiceover work.
Tape Op

The sound of the Lauten is what I would call "toppy", meaning that it accentuates the upper frequencies where the sibilance of a vocal lies, and there's a familiar harmonic richness to the top end that I associate with other tube condensers, like Ela M 251s and U 67s. Compared to an AKG C 414 or a Neumann U 87, the Horizon was noticeably brighter on male vocals, cutting through the mix more, but not in an annoying way that would require a lot of de-essing…

With the Horizon on the outside edge of a guitar amp speaker (which I was combining with an MD 421 on the center), I was able to capture the dark tones nicely, but again got a surprisingly present top end, too.
SoundOnSound, 2009

My initial impression of the Horizon was of a slightly bright but nicely crisp sound, with a well-extended bottom end and a very smooth, detailed mid-range…

[T]his is an impressive and versatile microphone, and one that I think truly represents good value for money — provided you're looking for a microphone with a definite sound character, rather than something that's fundamentally neutral.
The Lauten Audio LT-321 Horizon is also known as: LT-321, LT321.
The mic was released in 2006.
Specifications
Frequency Response - Cardioid

Click Graph to Compare!
Pickup Patterns
Pads & Filters
Cardioid (32 mV/Pa; 20 - 20,000 Hz)


Pad: -10dB (Via Switch)
Pad: -20dB (Via Switch)
Capsule Dimensions
Impedance
SPL/Noise
Diaphragm diameter: 26mm
Capsule diameter: 32mm

200 Ohms (Low)
Max SPL: 140 dB
Self-noise: 20.0 dB(A)
| Weight | Length | Max Diameter | Interface(s) |
| --- | --- | --- | --- |
| n/a | 224mm (8.82'') | 61mm (2.40'') | |
Power Specifications
Includes tube power supply
Did we get anything wrong on this page? Please let us know!