Coles Electroacoustics 4050
Multi-Pattern Ribbon Microphone
The Coles 4050 is a pair of bidirectional passive ribbon microphones based on the ribbon motor and transformer of the Coles 4040. This microphone includes an innovative two-sided magnetic mount that allows the two halves of the mic to be butted together for Blumlein use.
The circumference of the mount is calibrated to facilitate precise positioning.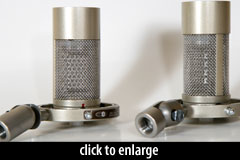 Given two of these mounts, the two halves of the microphone can be used separately, such as for a spaced pair.
Rob Tavaglione, PSN, 2010

I've extensively used the Coles 4040, and it sounds absolutely great. The 4050 sounds nearly identical to me, and it is literally twice the mic! It's also much smaller, lighter and way easier to use in stereo applications with its nifty magnets, easy rotatable elements and superb shockmount. Add its ability to separate into two mono mics and you have a no-brainer here …
Kevin Becka, MIX, 2010

My first application was to put the pair of mics in front of a Marshall guitar amp.. The sound was phenomenal and just what you'd expect from a world-class ribbon: plenty of great midrange and warm bottom end; rounded, ear-friendly transients; and rolled-off top end that placed the guitar just where it needed to be in the overall mix with drums, bass, keys and vocals…

I tried the pair over a drum kit, but I like a bit more brightness in my overheads than the Coles could provide. Still, the toms and sound of the overall kit were nicely balanced across the pair…
Permalink: Coles Electroacoustics 4050
Specifications
Pickup Patterns
Pads & Filters
Bidirectional (0.56 mV/Pa; 20 - 20,000 Hz)
Blumlein (0.56 mV/Pa; 20 - 20,000 Hz)

| Ribbon Construction | Impedance | SPL/Noise |
| --- | --- | --- |
| | 300 Ohms (Low) | Max SPL: 125 dB |
| Weight | Length | Max Diameter | Interface(s) |
| --- | --- | --- | --- |
| 362g (12.77oz) | 102mm (4.02'') | 50mm (1.97'') | |
Did we get anything wrong on this page? Please let us know!