Cloud Microphones 44
Bidirectional Ribbon Microphone
The Cloud 44 is a passive ribbon microphone designed by Stephen Sank. It shares an exterior body design with the JRS-34, but incorporates a different ribbon motor design, and produces a different sound.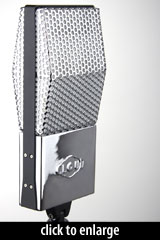 Cloud Microphones

The new Cloud 44 limited edition chrome ribbon mic joins the JRS-34 in Cloud Microphone's boutique line of ribbon mics and shares a direct connection to the RCA classics, continuing to build upon the work of Harry F. Olson and Jon R. Sank. Sold exclusively at ZenPro Audio, the Cloud 44 limited edition chrome ribbon mic is a beauty to behold in both sight and sound! The internals are modified with a slightly different magnet structure, and each ribbon is tuned to deliver a wide, fat bottom and smooth the top end response; the exact direction we wanted to take it for those seeking a more "old school" larger than life sound.
The Cloud 44 was built with the same Cinemag 1:35 transformer as the JRS-34. Therefore the primary difference between the 44 and the JRS-34 was the motor, and specifically the shape of the magnets. In the JRS-34, the faces of the magnets nearest the ribbon are rounded, while in the 44 (and RCA 44) the faces are flat. The squared-off magnet faces in the 44 family are thought to be the source of some of that mic's distinct coloration, due to audio reflections in the vicinity of the ribbon.
The Cloud 44 retained the spring-mounted motor idea pioneered in the JRS-34.
Permalink: Cloud Microphones 44
The mic was released in 2012.
Specifications
| Pickup Patterns | Pads & Filters |
| --- | --- |
| Bidirectional (3.5 mV/Pa; 20 - 20,000 Hz) | |
Ribbon Construction
Impedance
SPL/Noise
Length: 60mm
Width: 4.8mm
Gauge: 1.8 microns
150 Ohms (Low)
| Weight | Length | Max Diameter | Interface(s) |
| --- | --- | --- | --- |
| n/a | 208mm (8.19'') | n/a | |
Did we get anything wrong on this page? Please let us know!