Audio-Technica AT5047
Cardioid Condenser Microphone
The Audio-Technica AT5047 is a transformer-coupled condenser microphone with the company's distinctive quad-electret capsule. It is the sister mic to the flagship AT5040.
The AT5047 has the same capsule design as the AT5040: a unique 2x2 array of rectangular electret capsules, wired as pairs with two capsules producing the hot side of the balanced output, and the other two producing the cold, or negative side. Because this scenario doubles the microphone's sensitivity, the output from the AT5040 is very high. The Sound On Sound review from December 2012 even mentions that the output is high enough that with the right vocalist, a mic preamp may not even be needed.
Aspects of the 5047's design result from customer feedback that the AT5040's output was too high. The new microphone has a transformer-coupled output stage, which lowers the AT5047's sensitivity to 35.5mV/Pa (-30db), from the 5040's 56.2mV/Pa (-35db), putting it in the useful gain range of most common mic preamps.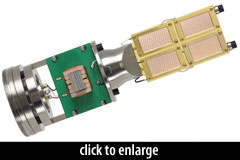 To make the transformer, Audio-Technica experimented with over 40 transformer designs from manufacturers around the world, ultimately deciding that making a transformer in-house would be the only way to specifically meet their needs. Therefore, the 5047's transformer, like the rest of the microphone, was designed in and is hand-assembled in Japan.
In addition to the sensitivity change, the transformer has other effects on the microphone. For instance, it changes the microphone's impedance to 150 ohms, up from 50 ohms on the 5040. While this means the AT5047 is limited to a shorter maximum XLR cable length than the AT5040, in practice the AT5040 can be used with cables up to 1000 feet, and the AT5047 should work fine with cables up to at least 250 feet in length.
The transformer also imparts some coloration to the microphone, deviating somewhat from the AT5040's extreme clarity.
Finally, the SPL handling of the AT5047 is somewhat greater than the AT5040, as it can handle 148db SPL over the 5040's 142db. Self-noise also increased from 5db to 6db, though both measurements are extremely quiet.
The AT5047, like the AT5040, is sold with the AT8480 shockmount. The package comes in a hard shell carrying case with foam cutouts for mic and mount.
Permalink: Audio-Technica AT5047
The mic was released in 2017.
Specifications
| Pickup Patterns | Pads & Filters |
| --- | --- |
| Cardioid (35.5 mV/Pa; 20 - 20,000 Hz) | |
Capsule Dimensions
Impedance
SPL/Noise
Diameter n/a
Diaphragm gauge: 2 microns
150 Ohms (Low)
Max SPL: 148 dB
Self-noise: 6.0 dB(A)
| Weight | Length | Max Diameter | Interface(s) |
| --- | --- | --- | --- |
| 592g (20.88oz) | 163mm (6.42'') | n/a | |
Power Specifications
Requires phantom power
Phantom voltage: 48v
Did we get anything wrong on this page? Please let us know!