Audio-Technica AT3525
Cardioid Condenser Microphone
The AT3525 was an early back-electret condenser microphone, released around 1998.
The mic had a relatively flat frequency response, and high max SPL of 156dB with the onboard -10dB pad enabled. A second switch on the mic body enabled a high-pass filter (-12dB/octave @ 80Hz).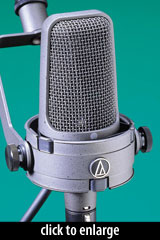 The mic shipped with an isolation yoke-mount and a storage pouch.
Sound On Sound, 1998
For me, the mic sounded at its best when the source was brought close enough to allow the proximity effect to start taking effect, and on vocals this creates a rich, quite warm sound with plenty of presence and detail.
Dave Moulton, 1999
The 3525 cardioid mic should be an excellent horn mic, guitar mic, or general purpose mic for a variety of tracking purposes. A set of three or four will permit you to do a bunch of very nice things. The bottom end limitations will tend to KEEP you out of trouble far more often than GETTING you into it, and mostly you'll enjoy the clean defined tracks you get.
Permalink: Audio-Technica AT3525
The mic was released in 1998.
Specifications
Pickup Patterns
Pads & Filters
Cardioid (3.9 mV/Pa; 30 - 20,000 Hz)


Pad: -10dB (Via Switch)
Filter: HPF: =12dB/Oct @ 80Hz (Via Switch)
| Capsule Dimensions | Impedance | SPL/Noise |
| --- | --- | --- |
| Diameter n/a | 100 Ohms (Low) | Max SPL: 156 dB |
| Weight | Length | Max Diameter | Interface(s) |
| --- | --- | --- | --- |
| 231g (8.15oz) | 119mm (4.69'') | 48mm (1.89'') | |
Power Specifications
Requires phantom power
Phantom voltage: 48v
Did we get anything wrong on this page? Please let us know!