Audio-Technica AT3060
Cardioid Tube Condenser Microphone
The AT3060 is a fixed-cardioid tube condenser that operates on phantom power. Unlike most tube microphones, no external tube power supply is needed.
The tube is a subminiature Raytheon 6418 triode, said to be hand-selected and individually tested and aged by Audio-Technica staff prior to installation.
According to Audio-Technica, the tube was shockmounted inside the microphone to reduce noise from mechanical vibration.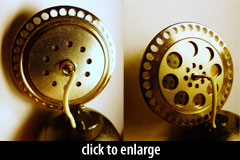 The capsule is a large-diaphragm electret type.
The mic's output uses a transformer.
The mic shipped with an AT8458 shock mount and a storage pouch.
Stephen Langer, MojoPie

What struck me the most about the AT3060 was its retro sound that came across no matter what [mic]pre was in use. I wouldn't call it a classic tube mic sound. But, I'd say it nails the retro sound sought by so many recording artists today. If you like the White Stripes, then you'll like this mic.
SoundOnSound, 2003

the AT3060 uses no conventional tube. It doesn't even use a miniature military-grade Nuvistor tube. Instead it uses a miniature low-current tube developed for use in hearing aids…

Although the AT3060 has a tiny valve, the sound is anything but tiny… the mic does manage to sound warm, with plenty of density in the lower mid-range where voices often need support. Furthermore, the frequency response tailoring isn't at the expense of the high end, which is clear and well extended without being strident… [The] sound offers a good combination of smoothness and clarity.
Jim G, Yahoo Micbuilders group

Uses National LM2665 charge pump chips to derive filament voltage. LD electret capsule. This model is likely to be based on this patent: phantom powered vacuum-tube microphone. (The patent drawing shows the charge pumps wired incorrectly.)
Resolution, 2003

Closer listening shows up a fairly steeply falling response below about 150Hz, which tended to make male vocals sound a little too thin unless miked very close. High-frequency response also falls off fairly steeply above 15kHz… as a result, ditant sources particularly start to sound "closed in" quite quickly.
RadioWorld, 2003

[T]he mic is a champ for voice work. The lift between 1.5 and 6 kHz gives shimmer to the soft-spoken female voice…

While it may not have the sonic coloration of classic tube microphones, the AT3060 has a rich, detailed sound that proved beneficial to almost everything I put it in front of.
Photos by DJS-NJ
Permalink: Audio-Technica AT3060
Specifications
Frequency Response - Cardioid

Click Graph to Compare!
| Pickup Patterns | Pads & Filters |
| --- | --- |
| Cardioid (25.1 mV/Pa; 50 - 16,000 Hz) | |
Capsule Dimensions
Impedance
SPL/Noise
Diaphragm diameter: 26mm

400 Ohms (Low)
Max SPL: 134 dB
Self-noise: 17.0 dB(A)
| Weight | Length | Max Diameter | Interface(s) |
| --- | --- | --- | --- |
| 540g (19.05oz) | 170mm (6.69'') | 52mm (2.05'') | |
Power Specifications
Requires phantom power
Phantom voltage: 48v
Did we get anything wrong on this page? Please let us know!