Audio-Technica AT2022
X/Y Stereo Condenser Stereo Microphone
The AT2022 is a stereo electret condenser microphone designed for studio or field applications.
Two small-diameter unidirectional elements can be adjusted between 90°–120° to vary the perceived stereo field.
The directionality of these capsules varies with frequency. 180° sensitivity increases at 200Hz and below, suggesting a tendency toward omnidirectionality at low frequencies. At 8kHz, the plot shows a narrowing of the polar pattern and a pronounced rear lobe, suggesting a tendency toward supercardioid at high frequencies.
To facilitate field and on-camera use, the microphone can be battery powered — in fact, it requires a battery. According to product literature, phantom power can damage the microphone.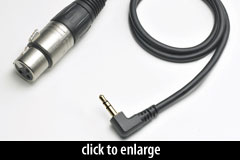 Although the microphone has a 3-pin XLRM jack, it is wired differently than normal studio microphones. In the AT2022, both pin 2 and pin 3 are "hot," and the output of each is unbalanced. Pin 1 is a common ground. The microphone is intended to be used with the included 0.5m XLR3F-to-3.5mm converter cable, which can easily be plugged in to many compatible cameras and field recording devices.
A switch on the microphone body optionally enables a -6dB/octave @ 150Hz high-pass filter. A second switch turns the microphone on or off. For long-term storage, Audio-Technica recommends that the AA battery be removed from the microphone body.
The mic ships with a stand clamp (Audio-Technica p/n AT8405a), output cable (with 3.5mm jack), a "fuzzy" windscreen, a size AA battery, and a soft storage pouch.
Permalink: Audio-Technica AT2022
The mic was released in 2011.
Specifications
| Pickup Patterns | Pads & Filters |
| --- | --- |
| X/Y Stereo (8.9 mV/Pa; 20 - 20,000 Hz) | Filter: HPF:-6 dB/octave @ 120Hz (Via Switch) |
| Capsule Dimensions | Impedance | SPL/Noise |
| --- | --- | --- |
| Diameter n/a | 200 Ohms (Low) | Max SPL: 122 dB |
| Weight | Length | Max Diameter | Interface(s) |
| --- | --- | --- | --- |
| 270g (9.52oz) | 192mm (7.56'') | 21mm (0.83'') | Stereo 3.5mm mini jack male (1) |
Power Specifications
Has battery compartment (1.5V AA/UM3)
Did we get anything wrong on this page? Please let us know!