Ningbo Alctron Electronics Co., Ltd. BC400
Multi-Pattern Condenser Microphone
The BC400 is a tripolar large-diaphragm condenser that appears to be visually modeled after the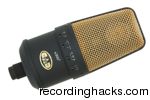 CAD Audio e300v2.
The sensitivity and self-noise specifications for the two microphones are nearly identical. Both have switches for pad, filter, and pattern in a row below the grille. (The e300v2 adds a power switch for use with its internal batteries.)
The BC400 circuitry is no doubt different from the CAD, as the CAD uses an equitek circuit with onboard 9V batteries.
Switchable options on the BC400 include:
Pad: 0dB, -10dB, -15dB (note: the Alctron catalog shows 0/-10/-20, but the sample mic we've seen was 0/-10/-15)
Pattern: Cardioid, Omni, Figure-8
HPF: flat, 75Hz, 150Hz (both -6dB/octave)
The mic includes a shockmount that wraps around the body from behind. This design is beneficial when close-miking instruments, as there is no shockmount chassis in front of the microphone.
Permalink: Ningbo Alctron Electronics Co., Ltd. BC400
Specifications
Pickup Patterns
Pads & Filters
Omnidirectional (19.9 mV/Pa; 20 - 20,000 Hz)
Cardioid (19.9 mV/Pa; 20 - 20,000 Hz)
Bidirectional (19.9 mV/Pa; 20 - 20,000 Hz)


Pad: -10dB (Via Switch)
Pad: -15dB (Via Switch)
Filter: HPF: -6dB/octave @ 75Hz (Via Switch)
Filter: HPF: -6dB/octave @ 150Hz (Via Switch)
Capsule Dimensions
Impedance
SPL/Noise
Capsule diameter: 35mm

n/a
Max SPL: 148 dB
Self-noise: 11.0 dB(A)
| Weight | Length | Max Diameter | Interface(s) |
| --- | --- | --- | --- |
| n/a | 196mm (7.72'') | 74mm (2.91'') | |
Power Specifications
Requires phantom power
Phantom voltage: 48v
Did we get anything wrong on this page? Please let us know!