AKG Acoustics C1000 S
Detachable-Capsule Condenser Microphone
The "C1000 S" is a third-generation version of the "C 1000 S," a popular cardioid condenser microphone that can be powered by batteries for field use.
The microphone uses a small-diameter electret condenser capsule. It has a relatively high self-noise level of 21dBA, and a relatively low sensitivity of 6mV/Pa.
Prior generations of this microphone could be powered by an internal 9V battery. The 2012 edition, which we believe was the first offered in black, has been changed to use two AA/UM3 batteries rather than a single 9V.
The 2012 edition is the first to offer a switchable high-pass filter (80Hz) and a switchable pad (-10dB); these switches appear to be inside the microphone, but the documentation is unclear.
The battery status LED, at least for the 9V version of the microphone, would light up to indicate that less than 45 minutes of power remain. We presume the same is true of the black AA-battery edition.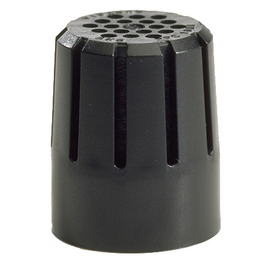 The pickup pattern can be switched from the mic's native pattern, cardioid, to hypercardioid simply by attaching the included PPC 1000 Polar Pattern Converter to the top of the microphone capsule.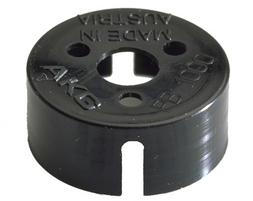 The mic's native frequency-response curve can be modified via the PB1000 Presence Boost Adapter which effectively adds 3 to 5 dB of high-end enhancement between 5 and 9 kHz, improving clarity of speech and adding definition to instrument sounds. This part can be purchased via retailers for about $3.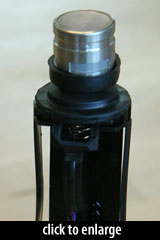 Both the PPC1000 and PB1000 are little plastic widgets that can be installed (one or the other, but not both simultaneously) on the mic capsule. The installation requires no tools and takes only a few minutes. The mic capsule is easily exposed by unscrewing the top half of the microphone body; this also reveals the battery compartment.
Permalink: AKG Acoustics C1000-S
The mic was released in 2012.
Specifications
Pickup Patterns
Pads & Filters
Cardioid (6 mV/Pa; 50 - 20,000 Hz)
Hypercardioid (6 mV/Pa; 50 - 20,000 Hz)


Pad: -10dB (Via Switch)
Filter: HPF @ 80Hz (Via Switch)
| Capsule Dimensions | Impedance | SPL/Noise |
| --- | --- | --- |
| Diameter n/a | 200 Ohms (Low) | Self-noise: 21.0 dB(A) |
| Weight | Length | Max Diameter | Interface(s) |
| --- | --- | --- | --- |
| 320g (11.29oz) | 229mm (9.02'') | 34mm (1.34'') | |
Power Specifications
Requires phantom power
Has battery compartment (1.5V AA)
Phantom voltage: 9–52v
Did we get anything wrong on this page? Please let us know!