AKG Acoustics C414 B-TL II
Multi-Pattern Condenser Microphone
The C 414 B-TL II is a transformerless multipattern FET condenser microphone — essentially, a transformerless version of the long-lived C414 B-ULS. It is a descendant of AKG's classic C 414 microphone, and the first of the "gold grille" series that resulted in the B-XL II and XL II.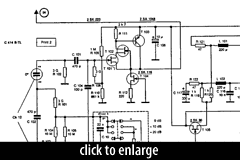 The B-TL and B-TL II marked the end of the transformer-coupled C414 microphone, the last of which was the B-ULS. The TL II further introduced a revised CK-12 capsule intended to recreate the sonics of the vintage AKG C12 microphone.
The new capsule retained the nylon tension ring and snap-to-fit construction techniques developed for the C414 EB, but the capsule was revoiced with a boosted high-frequency response:
AKG

Its frequency response above 4 kHz is the same as that of the classic C 12 with a slight high-frequency boost. Below 4 kHz, however, the C 414 B-TL II has an absolutely flat response.
From this point onward, the C414 models with gold grilles used the brighter, revoiced CK-12 capsule, whereas the silver grille mics used the flatter-response version of the capsule. AKG markets the gold-grille mics for vocals and distant-miking applications, and the silver-grille (flat-response) mics for applications in which "linearity" or "neutrality" are more desirable.
Pattern selection on this mic is accomplished via an electronic pushbutton below the mic's headbasket. Four patterns are provided: Omni, Cardioid, Hypercardioid, Figure-8.
Two additional pushbuttons on the rear of the mic body provide access to a preattenuation pad (0dB, -10dB, -20dB) and a high-pass filter (flat, -12dB/octave @ 75Hz or 150Hz).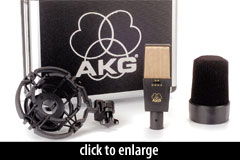 The B-TL II shipped with a shockmount (AKG p/n H100), foam windscreen (p/n W414), and a "Soundtool" flight case.
The mic was also available in stereo pairs (AKG p/n C 414 B-TL II/ST) — the kit included two mics selected for matching sensitivity and frequency response, a stereo bar (p/n H 50), two mic clips, two shockmounts, two foam windscreens, and a large Soundtool flightcase.
The AKG Acoustics C414 B-TL II is also known as: C414 B-TL II.
The mic was released in 1993.
Specifications
Pickup Patterns
Pads & Filters
Omnidirectional (12.5 mV/Pa; 20 - 20,000 Hz)
Cardioid (12.5 mV/Pa; 20 - 20,000 Hz)
Hypercardioid (12.5 mV/Pa; 20 - 20,000 Hz)
Bidirectional (12.5 mV/Pa; 20 - 20,000 Hz)


Pad: -10dB (Via Switch)
Pad: -20dB (Via Switch)
Filter: HPF: -12dB/octave @ 75Hz (Via Switch)
Filter: HPF: -12dB/octave @ 150Hz (Via Switch)
Capsule Dimensions
Impedance
SPL/Noise
Diaphragm diameter: 25mm

180 Ohms (Low)
Max SPL: 160 dB
Self-noise: 14.0 dB(A)
| Weight | Length | Max Diameter | Interface(s) |
| --- | --- | --- | --- |
| 320g (11.29oz) | 141mm (5.55'') | n/a | |
Power Specifications
Requires phantom power
Phantom voltage: 9–52Vv
Did we get anything wrong on this page? Please let us know!