AEA KU4
Supercardioid Ribbon Microphone
The AEA KU4 is a supercardioid ribbon microphone. It is based on the RCA KU-3A, an early directional ribbon mic. The KU4 has been in development at AEA for 4 years.
Ribbon transducers are natively bidirectional transducers. To produce a directional response, the acoustic path from the front to the rear of the ribbon element must be altered.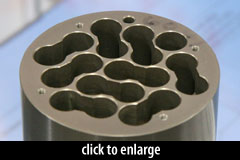 The KU4 achieves this with an "acoustical labyrinth," constructed of precision-milled aluminum. The rear of the ribbon element is obstructed by a tube that feeds into the labyrinth below the ribbon motor; the labyrinth delays the arrival of sound waves at the rear of the element so as to produce frequency-dependent phase cancellation.
In the RCA KU-3A, the labyrinth was stuffed with cow hair. The KU4 does not use cow hair, but there is some material packed into the labyrinth to aid the acoustical delay effect.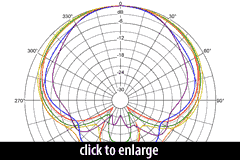 The resulting pattern is supercardioid, with well-defined nulls from 120° to 150°, and 24dB of attenuation at 1kHz at 180° The mic's rear lobe widens from 5kHz–7kHz, but even then maintains 10dB of attenuation at 180°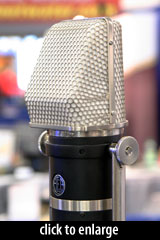 The ribbon element is AEA's standard 1.8µ aluminum material. Ribbons are cut, corrugated, tensioned, and installed by hand at AEA's facility in Pasadena.
AEA considers the KU4 to be especially well-suited to vocals and voiceover, brass, and drum overheads in spaces where an untreated or low ceiling can cause poor-sounding reflections.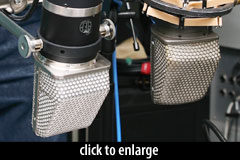 The mic was announced in October, 2010, and officially introduced at the AES show in San Francisco in November.
Permalink: AEA KU4
The mic was released in 2010.
Specifications
| Pickup Patterns | Pads & Filters |
| --- | --- |
| Supercardioid (2.8 mV/Pa; 30 - 20,000 Hz) | |
| Ribbon Construction | Impedance | SPL/Noise |
| --- | --- | --- |
| 2.1mm x 28.6mm, 1.8-micron aluminum ribbon | 300 Ohms (Low) | Max SPL: 140 dB |
| Weight | Length | Max Diameter | Interface(s) |
| --- | --- | --- | --- |
| 2080g (73.37oz) | 315mm (12.40'') | n/a | |
Did we get anything wrong on this page? Please let us know!