AEA A440
Bidirectional Active Ribbon Microphone
The A440 is a phantom-powered version of AEA's R44 "Big Ribbon" microphone.
Both mics are built around a long (nearly 60mm), thin (1.8µ), undamped, low-tension aluminum ribbon. Both mics use "New Old Stock" ribbon material made by RCA. Both mics produce a traditional ribbon frequency response, with significant attenuation in the high-frequency region.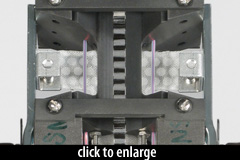 The amplifier circuit built into the A440 is among the quietest we have seen; the mic's rated self-noise is an extremely low 6dBA.
The mic's step-up transformer and amplifier circuit were designed by Fred Forssell of Forssell Technologies.
AEA

The A440 is … the quietest ribbon microphone. At 7 mA current draw, it has a 9 dBA noise floor and handles 136 db SPL. A custom 9 mA version has a 6 dbA noise floor and handles 132.5 db SPL.
The mic is solidly built, with a cast bronze yoke mount. Each unit is hand-built to order, then individually tested prior to shipping.
These mics are hand-built to order in Pasadena, CA. The standard finish is Umber Gray and Silver.
The following options are available:
M - hand-matched stereo pairs
U - Custom body graphics or colors
F - Custom microphone flag
MIX

The proximity effect is greatly magnified with the A440 — the closer you get, the more the bottom end blooms… When placed about a foot in front of the f-hole on an upright bass, the AEA proved to be one of the best mics I've ever heard in this application… When used 12 inches outside of a kick drum with a pop filter in front to protect the engine, the A440 sounded great paired with a Beyerdynamic M88 on the inside of the drum. It had the effect of a sledgehammer to the chest that would please any engineer…

It didn't take much effort to fall in love with the AEA A440, but like all good relationships, you've got to work at it. Placement is more critical with this mic than any other ribbon I've used… The A440 is pricey, but well worth it if you're looking for a unique-sounding niche microphone that can reliably take on more than 130 dB of SPL and deliver plenty of bottom end.
The AEA A440 is also known as: Active 44.
The mic was released in 2008.
Specifications
Frequency Response - Bidirectional

Click Graph to Compare!
| Pickup Patterns | Pads & Filters |
| --- | --- |
| Bidirectional (30 mV/Pa; 20 - 20,000 Hz) | |
Ribbon Construction
Impedance
SPL/Noise
1.8µ aluminum ribbon, 4.7 x 59.7mm
92 Ohms (Low)
Max SPL: 132 dB
Self-noise: 6.0 dB(A)
| Weight | Length | Max Diameter | Interface(s) |
| --- | --- | --- | --- |
| 3180g (112.17oz) | 312mm (12.28'') | n/a | |
Power Specifications
Requires phantom power
Phantom voltage: 48v
Did we get anything wrong on this page? Please let us know!