ADK Hamburg 67-Au
Cardioid Condenser Microphone
The Hamburg 67-Au is a cardioid FET condenser from ADK's Custom Shop line. It was introduced in 2007 as the "Hamburg II-Au," and replaced in 2013 by a 3-pattern mic called the Hamburg 67-T.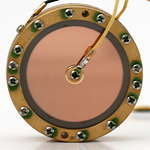 The 67-Au used the 3-Zigma GK67 capsule, a 34mm design tuned to recreate the sound of the U87 microphone.
Other notable components include a British-made Oxford transformer, an unusual Phillips/Norelco JFET, and Wima capacitors.
Two 3-way switches on the mic body activate attenuation pad (Off, -8dB or -16dB) and Low Rolloff (Flat, 100Hz or 160Hz).
The Hamburg 67-Au is believed to be identical to the "Hamburg II-Au" model, and an improvement on the Hamburg model in the Audiophile line.
Mix Magazine - 2008
I then used the Hamburg II-AU to record acoustic upright bass with the mic placed about a foot-and-a-half in front of one of the f-holes, approximately 20 inches from the floor and pointing slightly downward. Upright bass can be difficult to record accurately because some mics overemphasize certain frequencies, causing the instrument to sound very loud on certain notes and soft when playing others. Not so with the Hamburg II-AU, which was smooth across the range of the instrument while conveying a sense of the instrument's size - even on the high notes - and providing just the right amount of pluck.
The ADK Hamburg 67-Au is also known as: Hamburg II-Au.
The mic was released in 2007.
Specifications
Pickup Patterns
Pads & Filters
Cardioid (18.84 mV/Pa)


Pad: -8dB (Via Switch)
Pad: -16dB (Via Switch)
Filter: HPF @ 100Hz (Via Switch)
Filter: HPF @ 160Hz (Via Switch)
Capsule Dimensions
Impedance
SPL/Noise
Diaphragm diameter: 27.4mm
Capsule diameter: 34.3mm
Diaphragm gauge: 6 microns
n/a
Max SPL: 134 dB
Self-noise: 15.0 dB(A)
| Weight | Length | Max Diameter | Interface(s) |
| --- | --- | --- | --- |
| n/a | n/a | n/a | |
Power Specifications
Requires phantom power
Phantom voltage: 48v
Did we get anything wrong on this page? Please let us know!