I saw an inspirational blog post the other day that contained some simple bullet-pointed suggestions about happiness. The one that stood out said
"Finish more, start less."
I love that advice, because maybe if I hear it often enough I'll actually follow it.
I did finish a couple things recently, which I'll mention below. Unfortunately, I started a few new things too. It's just my nature, damnit.
And there's one more thing that, it pains me to say, I didn't finish yet, so I won't mention it at all. (Cough,
ribbon mic shootout final picks,
cough! Argh.)
February Newsletter Sponsor: 3-Zigma Audio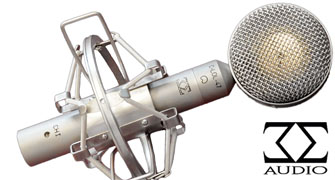 A good microphone locker need not be huge, but does need to have many different sonic colors in it. No matter how many mics you own, you already know this to be true: if all your microphones sound exactly the same, you'll be in for some difficult sessions.
I think this is why modular microphone systems have always appealed to me. I love the idea that I can expand my audio palette by buying another capsule to fit onto an existing "head amp." The cost of the additional capsule is less than the cost of a new mic, but gives me an entirely new sound.
3-Zigma Audio
has taken this idea to a new level with their
"CHI" system
: two head amps, four small-diaphragm capsules, and four large-diaphragm capsules (so far!) produce an unparalleled sonic toolbox. Mix and match the transformerless and transformer-coupled bodies with Cardioid, Hyper, or Omni SDCs and four Cardioid LDCs. The large-diaphragm capsules are tonally modeled after vintage reference microphones: the Neumann
U47
and
U67
, the
AKG C12
, and the
Telefunken Ela M 251
. They make the CHI into a chameleon microphone, ready for anything but especially great for stringed instruments.
I was fortunate to be the first to
review the original CHI system
. We tried the small-diaphragm Cardioid capsule and all four LDCs on voice, drums, acoustic guitars, even hammer dulcimer, with excellent results. It was clear after a few sessions that keeping the CHI large-diaphragm capsules around would make any future acoustic guitar session a breeze, because whatever the tonality of the instrument, one of the four capsules was likely to be just the right sound.
The CHI mics all have extremely low self-noise, which ensures that your tracks will sound like music, not hiss. In my testing, I found their transient response to be exceptional, as well.
As this month's MIC NEWS sponsor, ADK/3-Zigma founder Larry Villella has generously donated one of the second-generation transformerless CHI head amps, plus
your choice of large-diaphragm capsule.
The winner, to be selected by random drawing in March, gets to choose from the CHI '47, '67, C12, or '251 LDC capsule heads.
(This was Larry's idea. How awesome is that?!)
Winning one of these mics is a bit of a gateway drug, I'm afraid. The other LDC capsules are just too much fun. Also, the CHI SDC Cardioid will give any other pencil mic a run for its money.
If you received this newsletter via email, you're already entered in the CHI drawing, which will take place in mid-March. If you're reading this online and would like to subscribe to the newsletter,
click here for details
.
Wrapping up the $200 Condenser shootout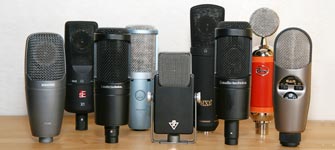 After weeks of menacing looks from the stack of inexpensive condenser mics in the corner of the studio, I finally made time to
shoot them out above a drum kit
.
Let me just say right now: I really hate mono drum miking. No disrespect to the classic records where
the whole band is in mono...
but the world has changed, tracks are free, microphones are cheap, and in case there was any question,
I have two ears.
Including a neutral reference mic (in this case, a vintage
AKG C 460 B
that was rebuilt by Jim Williams of Audio Upgrades) was a huge help. It's a technique I will retain for future shootouts; it's so much easier to compare
pairs
of microphones, rather than trying to digest an 11-way test all at once.
Several of the mics sounded pretty decent in this application. The
Studio Projects LSM
was a surprise standout. It's got mojo. It seems like the sort of mic that wouldn't necessarily work on every source, but when it does, it gives you something special.
I'm working on an interview with the LSM's designer, Brent Casey. Look for that in the next couple weeks.
Soon to come: Mic Kits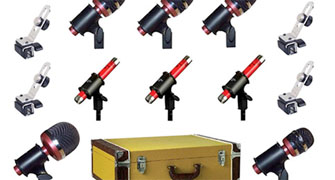 When I was touring the new MXL gear with Jim Mona at NAMM, I realized that I've been missing a significant chunk of the product line for a lot of mic companies. Namely,
kits.
Just about every company makes drum-specific microphones — some have done so forever, and the rest started about three years ago — and it doesn't take long for anyone who makes drum mics to bundle them together into "drum mic kits."
And that's just the most obvious sort of kits. MXL and other manufacturers sell all manner of stereo kits and recording bundles. From what I've heard, these kits sell like crazy.
Mic kits have historically been a poor fit into the mic database, just because the data model didn't accommodate them. It was designed to contain single microphones, not sets.
That was true until Friday, anyway. I spent a long evening expanding the data model and building the necessary admin tools. By Sunday, the tools were complete, and I was cranking the kits into the database. There are a dozen so far, from Shure, Heil, MXL, Telefunken Elektroakustik, and Lewitt Audio, with more to come.
What, you'd like to see them on the website? Erm. I didn't build that part yet. But sooooon.
Award-winning Microphones
At some point in the evolution of any successful publication, the editors decide their opinions are important and relevant enough to justify giving awards to products. It's a natural consequence of having tested all the new gear on the market for years, and being asked for recommendations constantly, and of needing to fill a couple more pages in the magazine with inexpensive editorial content. Wait, did I say that out loud?
I jest, of course. I do believe consumers appreciate pointers toward the best gear, and I believe at least some of the print publications are well-positioned to provide that sort of guidance. Moreover, just as soon as I also decide I'm important and relevant enough, I will be launching my own Editor's Choice awards too. So there.
Anyway, industry awards were only haphazardly listed in the mic database, until now. We've just begun systematically entering them; you can see the results listed in the yellow sidebar of metadata about each mic. See, for example, the
Royer R-101 ribbon
, which won a TEC award last month at NAMM.
This feature will also let you quickly find the most-award-winning microphones. I'd give you the link to that page here, but I only just thought of it. (One more thing to finish, damnit!)
Announcing the RealTraps PVB Winner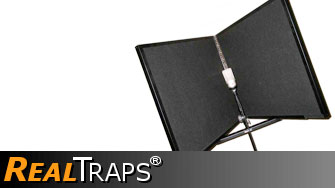 Our January newsletter was sponsored by Ethan and James at RealTraps; the prize is a RealTraps PVB, or "Portable Vocal Booth," which I know from
personal experience
to be a fantastically useful addition to any project studio.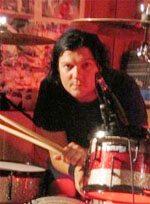 The winner is...
Anthony "Twon" Ridenhour
of San Diego, CA!
Twon is a drummer and recording engineer, and endorser for Battlefield Drum Co. He built
Cabana Studios
from the ground up, and has been recording artists there for a small indie label in San Diego.
Congratulations, Twon! Your vocal tracks are about to get a whole lot cleaner!
See you next month!