Telefunken R-F-T AK47 and M16 MkII Tube Mics
Originally published at www.studioreviews.com/telefunken-ak47-m16-review.htm; rescued from Internet obscurity 2010-06-02.
Telefunken R-F-T AK47 and M16 MkII Tube Mics
Telefunken bounces back with a pair of winners
by Dan Richards; published in November, 2006
If you're into pro audio, unless you were living in a cave, you may have caught our evaluation last year between a $1000+ Telefunken R-F-T M16 and a $200 Apex 460. We essentially found them to be the same microphone. Funny the print magazines never mentioned anything.
Subsequent to our report I've had quite a few long conversations with Telefunken USA CEO, Toni Fishman. To their credit I should at least include a little on the back story behind the R-F-T series of microphones. With the introduction of Telefunken USA, the price range runs from about $6,000 to over $10,000 for their microphones. Not exactly chump change. And not within reach of most project studio owners. Due to requests at trade shows, phone calls and emails, Telefunken found there was a demand by customers who would like to own a Telefunken mic without the large price tag. Telefunken decided to launch the R-F-T series as an affordable alternative. Telefunken USA, having a penchant for reviving historic names from the golden era of microphone production, found that the old German name, R-F-T, was available. R-F-T originally stood for "Radio Fernseh Technik," under which many companies released products, including Gefell. R-F-T was a VEB, Volkseigener Betrieb which were people-owned enterprises in East Germany.
In order for Telefunken USA to establish a trademark for R-F-T they had to use it in commerce. In the spring of 2005 they released the first version of the M16.
Moving forward
Obviously, the folks at Telefunken weren't too thrilled about our comparison. So, when the new AK47 and M16 MkII mics were introduced in late 2005, we found that Telefunken actually had the balls to send us the mics. I'm glad they did. Turns out they're excellent. And for the same reason that we didn't have to bullshit about the original M16 being nearly identical to a $200 Apex 460, we also don't have to pull punches about the fact that the new AK47 and M16 MkII offer up some serious microphoneage.
We received these mics in earlier this year. Two AK47's and one M16 MkII. I sent two studios who regularly do testing each an AK47. The MK16 MkII made the rounds to both studios.
The AK47
The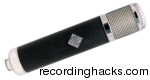 AK47 is a large-diaphragm vacuum tube microphone with a remote power supply with switching between nine variations of polar patterns. The all-important hand-wound BV47 transformer is made by TAB Funkenwerk. The capsule is 6-micron, gold-sputtered, dual-sided. The AK47 contains an NOS Telefunken EF732 mini tube. The mics comes with a 7-pin 25 ft Gotham Audio GAC-7 cable. The headgrill on the AK47 contains the same wire mesh as in the Telefunken U47M. The overall packaging is as impressive as any we've seen. Everything, from the hand-made wooden box, to the box, and even the Telefunken-logo'ed tape adds a pampered touch to these products.
I contacted the studios, The Lazy I and Sea Note Recording, about the AK47's. Not only did all the engineers like the mics, but everyone was using them on every session. With as many mics as we have around here for testing, those are some high compliments. The number one application was vocals, followed closely by acoustic guitars, amps, and just about anything else that came in. At Sea Note, the AK47 has been parked on the main mic stand for months.
When I got to use the AK47 in the studio on some sessions. I found it solved a lot of problems, and gave a lot of desired characteristics. The AK47 is not bright. It's not harsh. Has great color, and a nice silky sheen across the mid-range, with air on top. I was excited enough about the AK47 that I sent it over to my engineer/musician friend Jamie Lange in Nashville, where he'd been in the middle of an exhaustive microphone audition with some pretty juicy mics from the rental department of Blackbird Studio. Here's some of what Jamie wrote after using the AK47:
Jamie Lange

I can tell you right off that there's a distinct difference in this and the Peluso 2247. This mic is about the warm and fuzzies. It sounds downright old. While the 2247 sounded in many ways like a poor man's M149, the AK47 has got a different thing. It sounds old. It has the least high end of any modern condenser I've tested. But, you can add a high shelf and it takes it well. I completely hear the old 49 in here… that chewy, yummy midrange with that warm "fuzz" that only seems to come with vintage mics. And I don't mean it sounds like the old 49 so much as it's got that vibe.

Just dropped it in front of the (Fender) Bassman… gorgeous tone. I might have to work on nailing this next track's lead guitar while this [mic] is still around.

Acoustic guitar is full bodied. Nothing squelchy or weird through the middle. On my voice it's a little thick and dark. Which is actually the same thing I thought about the old M49. But, it takes EQ well. Not quite as well as the M49.

For perspective, the high end mics I've really liked on my voice? InnertubeU87, U87i, U67, M149, Manley Ref Black. This is noticeably darker than those. I'm not sure that I'd say I prefer it to those. But, if we look at the things that have worked OK on my voice in it's price range? AT 4060. Soundelux U95. Peluso 2247. Mojave MA200. It hangs in there well, and is certainly the richest/warmest there.

Otherwise, even if it's not the perfect match for my voice, it's a fab color — and one that I don't hear done in modern mics.
The $1000 – $1600 price range of tube mics has become a hot niche with offerings in the last few years by Peluso, Pearlman, Charter Oak, Telefunken, and ADK. The quality of these kinds of mics was unheard of in this price range until recently.
We've used the Pearlman TM-1 and different Peluso 22 47's, and they are excellent mics. We recommend them all the time. We're finding we prefer the AK47 on more applications. The Pearlman and Peluso's give a bigger sound than the AK47. And that's exactly why we like the AK47 — especially in denser mixes. [ The more neutral Peluso 22 251 also takes up less space. ] The AK47 doesn't take up as much room in the mix, and can be easier to work with in the context of more modern music. And the AK47 has this warm fuzzy sheen in the mids. If you want a bigger sound for use in less dense music where the vocal is featured, then the Pearlman or one of the Peluso's are a great choice, but overall we've found the AK47 to be a better general-purpose mic in the studio where a colored, vintage-sounding mic is desired in this price range.
A few weeks ago we were testing mic choices for a male rock vocalist, and ended up choosing the Telefunken AK47. We used a Millennia HV-3 preamp to audition the mics. The HV-3 would have been a good pre to use, but I wanted something in a preamp that would be just as open as the HV-3 but also add more air. When we ran the AK47 into a LaChapell Audio 992 EG we got the air I wanted in spades.
We've got the Taye StudioMaple kit sounding great — I mean really good — since we added the Evans heads and worked on getting the kit all tuned up. The 24'' maple kick is thunderous. We were recording a rock ballad, and while we wanted the individual drums to punch through, I wanted to get a big airy sound on the overall kit. We also used a Telefunken AK47 mic through an A-Designs MP-2A preamp on kick, positioned out about 6' and about 1 foot off the ground, which also gave us some space, air and great low end. We used API pres on all the individual drums that were close-miked. Mics were 57 on snare, 421's on toms, and a D12E close in on the kick.
The AK47, out of the box, sounds old and lived-in. It sounds like its been hanging out in smoke-filled recording studios from a bygone era.
The M16 MkII
In the salt and pepper team of the AK47 and the M16 MkII, the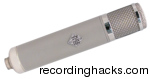 M16 Mk II performs the role of the neutral, brighter and more open mic. It features a custom-wound BV314 transformer handmade by TAB Funkenwerk, with dual-sided center-contact gold-sputtered capsule. The tube is an NOS GE JAN 6072a, which is the same tube used in the higher-end Telefunken Ela M 251. The power supply switches between nine polar variations, with a 7-pin 25-ft Gotham Audio GAC7 cable. The kit includes a shockmount and handmade wooden box, and comes attractively packaged in white cardboard boxes. No, there's no flightcase, which has become the trend with many mics made in Asia. But keep in mind there are high-end Neumanns and Gefells that come in cardboard boxes.
For some reference, please see my article, The Les Pauls and Stratocasters of the Microphone World: Understanding the lineage and classic sonics of the Neumann U47 and AKG ELAM 251 to get a little background about this "salt and pepper" team that Telefunken USA has created with the AK47 and the M16MkII and the role of each of these mics. If the AK47 is the pepper, the M16 MkII is the salt. And what Telefunken has done here is to make an excellent and complementary pairing of microphones. We reviewed the ADK Vienna and Hamburg, and while we found them to be the best large condenser mics in their price range, we didn't find them to sound all that different from each other. As great mics at a great price ADK delivered what we feel are the highest-quality condenser mics in their price range. But the "salt and pepper" team we were hoping for didn't happen. It happens with the Telefunken R-F-T AK47 and M16 MkII.
The M16 MkII's got some stiff competition in the Peluso 22 251 — which is a tube mic that I have highly recommended in the same price range. And just as I would recommend the AK47 for more applications, I would also recommend the Peluso 22 251 as the mic to handle more applications. But that doesn't mean the M16 MkII doesn't have its place — just as there are situations, music and end-users who would benefit more from a Pearlman or Peluso 22 47.
The M16 MkII is in the same neutral-sounding category as the Peluso 22 251. The sonic difference would be that the Peluso offers a more open sound with a sparkly mid-range, and the M16 MkII offers a slightly more subdued and a somewhat "older" sound. We found with the M16 MkII that the room was deemphasized a bit more, and transients in drum OH's were softened a bit more. We found on vocals that the M16 MkII offered a softer top and mid-range.
One of the great things that both the AK47 and the M16 MkII leave behind is the brightness and harsh mids that so many mics on the market possess. They offer something that feels and sounds classic and old school.
Kudos
I've got to give kudos where its due. Telefunken took it on the chin last year by releasing a mic too early on the market. I can't fault them for releasing a dressed up $200 mic for $1000+ anymore than I can fault Ferrari for selling a $20 handbag with a Ferrari logo for $150. And the character of a man — and a company — is not how they fall down, but how they rise up again. Telefunken listened, and bounced back with two winners in the AK47 and the M16 MkII — both of which have the kind of components, workmanship, and sound that would be expected in microphones in this price range. I'm a big proponent of boutique companies, and Telefunken is among the ranks. I encourage people to buy — invest in — the smaller pro audio companies. It makes a larger difference, and we've found over time that they, in turn, invest back into better and more compelling products.
Taking into consideration that Telefunken USA already produces sought-after, high-dollar, meticulously-made reproductions of classic mics, and including a TAB Funkenwerks transformer, these R-F-T microphones at more affordable prices give more of the real deal.
Consider me a converted Telefunken fan. And I can't wait to try more of their microphones.