TapeOp Issue #29/May, 2002 | by Steve McAllister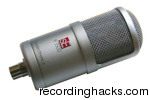 See specifications, reviews, & mods for the SE Electronics H 3500
Recently the mic market has been swamped with a bunch of low cost alternatives to high end classics. You've seen the ads and reviews that claim they're "just as good a Neumann (AKG, Telefunken, etc.)". Some of these companies use low cost capsules that originate in China ("but made to 'our' specs") — some, in fact, use the same capsules, only the housing and brand name are different.
Enter SE Electronics, a Chinese manufacturer who were kind enough to send me a mic to review. As my studio is temporarily out of commission, I took it down to The Slaughterhouse, where owner Mark Addison and I put it up against a variety of mics. For the record, we used baritone vocals (both spoken and sung) and acoustic guitar. Except where noted no EQ was used.
Here's what we found. The sE 3500 was a pleasant surprise. It was designed to look like a TLM 103 and came in it's own handy lunchbox. In action, it was crisp where it needed to be without being disconnected from the rest of the spectrum. It lacked a little high end, but when we dialed in the EQ (+6 dB at 4.7 kHz) it opened up very nicely. Sonically it far outdistanced the other Chinese stuff we had, though admittedly it fell short of the high-end items, but for $179 it's a bargain. (sE Electronics)
Read more about the sE H3500 condenser microphone.