TapeOp Issue #48/July, 2005 | by Joel Hamilton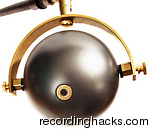 See specifications, reviews, & mods for the sage Electronics SE-BB1
The folks that make this really cool, great sounding microphone may just be the nicest people I have ever dealt with on the phone, period. That instilled confidence from the moment I called up Sage Electronics directly and decided to buy one of their strange-looking Bova Ball microphones. Since it arrived at the studio, I have tried it on everything I could — piano, acoustic guitar, drum ambience, etc. — all over the place actually. Even acoustic bass.
My favorite pieces of equipment are unique, and they make you glad to own them because they look cool and sound great (or at least unique). This mic really sounds great. Wide open, but without sacrificing the low end for top-end sparkle. Like a "more flattering" Earthworks TC30K, or a much, much more three-dimensional Stapes (Avenson Audio) omni. This mic looks like something you would see on an episode of The Prisoner, a TV show I love. I need to get another one of these mics because simply put, it sounds stunningly good. It sounds "real" without sounding harsh on drums. I just happened to use a Brent Averill 1272 preamp with the Bova Ball as a mono ambient mic on drums and sent the 1272 into a 33609 limiter, and… HUGE! Explosive drum sound in a mid-size room at Studio G with tile floor and diffuse wood walls — without too much cymbal "bite." (Hooray for discrete Class A support circuitry.)
Cool mics do cool things, and this mic is very cool. I hope to get a second Bova Ball soon, because I am feeling the power of a mic like this. Put up a mic that flatters the performance, and people get happy when they come in and hear what you've recorded. This mic makes it easy to put wide-open — but not harsh — sounds to our Studer A827 tape machine or Pro Tools HD rig. The Bova Ball is a unique piece of gear, it's made by cool people, and it does things a bit differently than anything else in its league. If you want a quality omni condenser, this is a great choice. (CDN $579 direct; Sage Electronics)
Read more about the Sage SE-BB1 spherical condenser mic.