TapeOp Issue #34/March, 2003 | by Chris Garges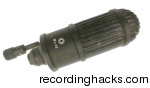 See specifications, reviews, & mods for the Oktava ML-52
Ribbon microphones have gained considerable popularity in the past few years. Unfortunately, the fact remains that although the availability of new, inexpensive condenser mics has grown, the availability of new, inexpensive ribbon mics has not. The new Oktava ML52 sparked my interest since I had recently purchased four of their small MC012 condensers and found them to be an excellent buy.
I've used ribbon mics extensively to record electric guitar. In particular, I've been fond of the RCA 77, Coles 4038, Royer R-121, and Beyer M160. The ML52 compares favorably to the RCA 77DX, and it rocks!!!!
The first guitar player I tried it on immediately noticed. "How did you do that?" he asked, "It sounds like my amp." Five other guitar players made similar comments in the next few weeks. I purchased another ML52 and began recording with both — sometimes on one cabinet, sometimes split between two — and I've had great luck combining them with a variety of condenser microphones. Put your ear in front of the cabinet, find the sweet spot, and go. No EQ or compression necessary.
I used the ML52 on a particularly difficult tenor sax where it added a nice complement of low mids and a smooth top. Male vocals sounded a bit hollow and muffled (the vocalist liked it, I didn't) and it hasn't quite been clear enough on upright bass. It was awesome for one kick drum track, but I did have to place it a good distance from the drum, and the drummer played very quietly. The ML52's didn't fare quite as well when uses as a spaced pair of overheads, but I've only tried that on one kit so far. They did sound nice as room mics for percussion and on harmonica as well.
I purchased my Oktavas at a "six-string retail outlet," which normally sells these mics for less than $400 each. They come with a nice, foam-padded plastic case and a not-very-sturdy mount, which is difficult to use at any kind of angle. Supposedly, Oktava will soon offer a shock mount. Also, one of my mics wouldn't accept an XLR plug because the guide in the jack was off-center, but the mic was quickly exchanged by my local retailer. (Thanks, Dr. Steve!) Then one of the mics took a two-foot fall. It sounded fine but the output dropped 10 dB, and the frequency response was a bit skewed. I'm currently awaiting a replacement.
Although this mic does have its limitations, the quality this mic offers for recording electric guitar is fantastic! If you are searching for a ribbon mic that won't break the bank, you should definitely look into adding an ML52 to your collection.
Read more about the Oktava ML-52 ribbon microphone.