TapeOp Issue #24/July, 2001 | by Martin Chittum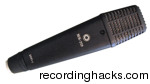 See specifications, reviews, & mods for the Oktava MK-219
Russian microphone manufacturer Oktava has been around since the 1950s. The MK 219 (a.k.a. MC 219) has been one of their most known and respected models for quite some time now, and is considered a staple in many studios, especially in England.
The MK 219 is a solid state large-diaphragm condenser mic with a single (cardioid) polar pattern. It includes switches for a 10 dB pad and a low frequency roll off, and comes encased in a cool, boxy, very Russian-looking metal body.
This mic sounds good on nearly everything.
This mic sounds good on nearly everything. I've used it on vocals, guitar (acoustic and electric), bass guitar, drum overhead, snare drum, bass drum, as a room mic — and it's handled them all with the unique and desirable sound that people love so much about good large-diaphragm mics. Normally I like trying different patterns to try to get that "right sound", but the MK 219's lack of multiple patterns really doesn't seem to hinder it's usefulness one iota.
Of course it's not perfect for everything; some metal junk banging sounds I was trying to record didn't do too well with it, that's more the territory of where the small-diaphragm condensers rule, but still, while it doesn't do the perfect job 100% of the time, it can be more than adequate at least 80% of the time.
If you are looking for a versatile mic that can handle just about any chore you throw at it, this is it. I absolutely love it on distorted guitar amps and snare drums — no EQ needed! At usually less than $200 street price, there's no reason why everyone shouldn't have one, and in this time of cheap mics thrown together from substandard parts, it's nice to see an inexpensive mic that's actually built by a respected company with quality parts and a reputation for having built superior mics for over half a century.
Read more about the Oktava MK-219 large-diaphragm condenser microphone.