TapeOp Issue #15/January, 2000 | by Larry Crane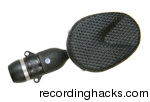 See specifications, reviews, & mods for the Coles Electroacoustics 4038
When we first started our studio, the Coles 4038 was on the top of the list for equipment wanted. Now, three years on, there's still no 4038, so when the opportunity to "trial run" one came up of course I said "yes."
The Coles is a ribbon mic, built in the UK by STC to the specs established by the BBC ages ago and imported by Wes Dooley and company at AEA.
What do I think of the Coles 4038? Well, even though the price is $1050 or so, it was very hard to pack it back up and send away when my trial time was up. It made electric guitar amps sound amazing. As a behind-the-drummer's-head room-mic it was full range yet crunchy — great for some garage-y Cadallaca songs we were tracking. It smoothed out acoustic 12 and 6 string guitars, but almost too much in some cases! I didn't get a good chance to use it on vocals, but hey, when I buy one (or a matched pair) soon I will. An amazing tool.
More about the Coles 4038 ribbon microphone.