TapeOp Issue #50/November, 2005 | by Dana Gumbiner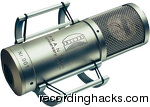 See specifications, reviews, & mods for the Brauner Phantom AE
Dirk Brauner and company have been building handcrafted, boutique tube mics in Germany for a little over a decade. Their USA division has been steadily introducing these wonders to the stateside market with great word-of-mouth success, despite the glut of inexpensive, assembly-line-built condensers. Brauner's superior build quality, amazing sound, and near-noiseless operation have won them a lot of fans, including Peter Gabriel, Bruce Swedien and David Gilmour.
[The Brauner Phantom AE] is a special 10th Anniversary Edition of their large-diaphragm Phantom C microphone, which was the company's first solid-state condenser. The AE is phantom-powered and features a fixed cardioid pattern, super-low self-noise (8 dBA), the ability to handle high SPL's, and a unique integrated shock mount. Plus, it comes with a classy, well-designed aluminum case, a high-end VOVOX mic cable worth $100, and a full two-year parts and labor warranty.
Unlike the C, the AE has a slick, matte black finish, and its production run is limited to 1000 pieces worldwide. Despite having virtually the same feature set and specs as the Phantom C, it actually costs less than that microphone, with a street price of $1275. This is the least expensive Brauner microphone on the market, but it is in no way a compromise.
The aluminum case is sturdy and has an inner pocket for notes or small bits of gear; I was able to fit a short XLR cable comfortably inside, despite the thick foam lining surrounding the mic. The AE itself is a weighty little black cylinder, looking a bit like a slightly shrunken U 47. The shockmount ships attached to the mic, and it was only upon careful inspection that I realized it was a separate component. It's made up of two semi-circular, C-shaped frames, one hugging the body of the mic, the other suspending the mic via nylon/rubber O-rings. The shockmount is mounted to a stand by a sort of swivel mount, which allows you to move the mic on both horizontal and vertical axes for optimal placement. The mount is clamped tight by means of a single lever that's similar to a bicycle wheel's quick-release.
Although I loved the simplicity and versatility of this design, the lever was a bit difficult to clamp down and release; I found myself having to apply a lot of torque to get it to stay put and then found it kind of difficult to undo. There is a hex screw in the hinge of the mount, but I never had to resort to that, fortunately.
Also, note that the AE is very well-machined — almost too precisely; some of my less-expensive XLR cables had a hard time fitting to the male end.
The AE truly is an exceptional vocal mic.
Brauner's website indicates that their engineers targeted the Phantom AE for lead vocal and voiceover. I was able to use this mic over a number of sessions, primarily vocal sessions, but also for a few oddball applications as well. It proved to be very flexible, having more colors and "voices" than the straightforward design might suggest. The AE truly is an exceptional vocal mic, particularly on male vocal.
Honestly, my very first test of the AE was a bit of a dead end. I put the mic up in front of a female lead vocalist, Rebekkah (Rebekkah's Tuesday), using a UA 6176 as my preamp and compressor. Rebekkah has a clear, high, dynamic voice — kinda Joni Mitchell-esque — and the AE definitely captured the subtleties of her performance well. I like the way the AE "held" on to her performance, even if she moved around while singing; this may be a result of the larger diaphragm employed in this mic's design. Proximity effect was negligible, and the low mids were tight and required no EQ or crazy compression.
But the AE also seemed to have a boost in presence that, on this particular vocal, translated as unnecessary sibilance. After comparison with an AKG C 414 and a Royer R-121, we decided that the C 414 was the right mic for her voice. I really liked what I heard, though, and made some notes for the next session.
I next used the Brauner in a session with vocalist Jim Davis (The Goodmornings). Jim has a slightly gravelly, alt-country-ish voice, which stretches towards the alto range. Think Britt Daniel (Spoon) or maybe Ryan Adams. The AE was perfect for his voice; the response curve of the mic was well suited to bring out the detail and clarity in his performance. The presence boost I had perceived earlier complemented, rather than agitated, this vocal performance. The vocal just sounded big and bright, and the mic never broke up, no matter how hard we hit it. The tracks we ended up with were easy as hell to mix — just bring the fader up and there you go.
Emboldened by this success, I decided to try the AE on some group backup vocals: two or sometimes three vocalists spread out in a semicircle in front of the AE, maybe 3 ft away, in a large room. The results were awesome — again a nice, clear, big sound, this time with a bit of added open ambiance.
When singers are comfortable with this technique, I love the sound of background harmonies sung simultaneously into one mic. The challenge is placing the individual performers in the room so that the sound isn't just an overpowering mush, yet finding a comfort zone for the singer who isn't totally accustomed to this setup. A lot depends on the headphone mix. Sometimes, I just can't get it right for each singer and will have to compromise somehow, tracking each part separately. It's weird, but in trying to capture this type of performance, the AE actually made my headphone mix sound better! The vocalists just flat out sang better than they did with other mics in a similar setup.
I've also been really happy with the AE as an acoustic guitar mic, particularly in the tricky lo-mid range. The proximity "boom" I've fought while using other large-diaphragm condensers was not an issue, and again, I was left with a full, wide sound. I've been chasing the sound of the rhythm acoustic guitar on "Rumours" (yeah, yeah, whatevs), and I think I've come another step closer with the AE. The AE fell a bit short as a mono room mic for rock drums, at least in my (admittedly) semi-splashy drum room. I felt as if it was a bit too bright for this job. I did, however, really enjoy the sound of it in the room when tracking loud lead guitars. It seemed to lend the tracks a lot of depth and spread, without unnecessary mud and "woof."
It's easy to see how the AE would be a go-to for most vocal sessions while also being a complementary mic for other applications. With only a thousand of these available, I won't be surprised if Brauner sells all of them soon. ($1500 MSRP; Brauner Microphones)
Read more about the Brauner Phantom AE FET condenser microphone.