TapeOp Issue #27/January, 2002 | by John Baccigaluppi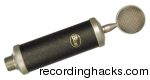 See specifications, reviews, & mods for the Blue Microphones Baby Bottle
I've been working with the BLUE mics for about a year now and am very impressed with them. Beyond the cool styling and look of these mics, they sound far better than you'd expect them to for the price.
I've mainly worked with the Dragonfly, Mouse and the Blueberry, but we recently picked up one of the new cardioid Baby Bottles. One thing I've noticed about BLUE is that while their mics are all large diaphragm condensers, they all sound really different from each other. Each mic seems to be more than just a repackaging with slightly different features from the others. The Baby Bottle is no exception. It's a "stripped down" mic (no switches or shock mount), but it makes up for it with it's sound and you can buy a shock mount from Gary Young for $23 (www.shockmount.com).
It has a nice bottom end and a less pronounced top end than the Mouse for instance, but if you grab some EQ and tweak the top up a bit, it still sounds natural. Overall, I'd say that "natural" with good detail and clarity is a good description of the sound of the mic. I've used this mic on vocals and acoustic guitar with excellent results. I like having a variety of mics and over the last 15 years have collected a few, but I have a really hard time saying any mic is "better" than any other mic, when some of my favorite mics are inexpensive weird mics that technically don't sound very "good" but sound amazing in certain applications. But, if I'm buying a new mic, I want to hear what it sounds like next to similar mics, in this case large diaphragm condensers. I've thrown this mic (and my other BLUE mics) up against mics that cost quite a bit more money, like my Neumann U67 and AKG 414, and the BLUEs more than hold their own. And, depending on the vocalist, it will often win out over the pricier "legendary" mics. I'm not saying this mic is better than a U67 but it does sound as good in it's own fashion. This is a great addition to my mic drawer and if you're thinking of picking up a large diaphragm condenser, I strongly urge you to listen to this mic, and at $500 retail it's a killer deal. (Blue Microphones)
Read more about the Blue Baby Bottle condenser microphone.