RØDE NT2 Review – Audio Media
Originally published at www.rode.com.au/audmed.htm; rescued from Internet obscurity 2010-05-14.
New Russian microphones seem to appear almost on a weekly basis, but high quality, large diaphragm condenser mics from Australia are rather more of a rarity. JERRY BOYS and BRUCE DAVIES of Livingston Studios find that this one exceeds their expectations.
A condenser microphone to challenge the standard German fare at a particularly un-German price of 424 (excluding VAT) seemed too good to be true. Add to that the inclusion of a shockmount and the fact that it doesn't sound half bad, and you've probably got a bargain.
Construction
The first thing you notice is that the NT2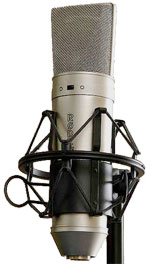 is built for the outback, with a solid metal body that should withstand the most demanding of studio treatment. We were delighted by this, having anticipated a condenser at this price to disintegrate near a studio! Importers HHB assure me that in the unlikely event they should be needed, spares are available (HHB even offer a complete swap for a new unit should one fail while under guarantee), and RØDE are part of the well-established Freedman group of companies, which implies that the microphone will be well supported.
The microphone comes with a heavy duty suspension mount as standard, which adds further to the excellent value of the NT2. However, the SM1 shockmount is the only means of mounting, which may present difficulties where space is at a premium, so I'm pleased to report that RØDE promise an alternative, for this very reason, in the near future. The mount has a nifty tension clip, which requires only finger pressure (no fiddly catches to lock) in order to firmly grip the microphone, and comes felt lined to protect the finish of the barrel. A word of warning however — on the review model, it at first proved necessary to unscrew the shockmount pivot screw to the point where it fell out in order to move the NT2 vertically through the 180 degrees available. At this point, your reviewer demonstrated his fielding abilities to prevent microphone meeting floor! As use continued, the pivot loosened sufficiently to overcome this problem, although this is something that RØDE might still wish to improve upon. The mount, which provides ample isolation from the microphone boom, does allow easy access to the standard male cannon connector, which mated well with every lead tested.
The polarity thumb switch, which allows selection of either cardioid or omni patterns, is located on the front of the NT2 beneath the capsules and is positive in action. The switch is also housed in such a way that it is unlikely to suffer the capsule twisting problems that are characteristic of some of its competitors. On the rear of the mic is a switch to select either a -10dB pad or bass roll-off filter, but not both. We were disappointed that RØDE were not prepared to overcome the challenge of providing both choices, you'd be amazed at how many situations we could think of where both would have been useful. Being a condenser, the NT2 requires external +48 Volt phantom power and has no option for battery use.
Performance
Both Jerry and myself ignore pretty frequency response charts, preferring instead to trust our ears. For this reason, we enlisted the series of Andy Halsey, singer/songwriter with band Limousine, who pitched both acoustic guitar and vocals at us, whilst we made comparisons with various condensers of the kind to be found in all good studios. The gain structure was compared through a Massenberg mic preamp and output was moved to be about 6dB lower for NT2 than a U87AI, with no discernible difference in relative S/N ratios. The initial impression was of a very pleasing overall sound, with a lighter bottom end and an increased presence.
On guitar, the microphone seemed to counteract the usual acoustic boom at the bottom end, which had us reaching for the roll-off filter on the other units. With vocals, the NT2's increased presence was pleasing, although we did note that any attempt to boost the 10–12kHz region further tended to add an unpleasant harshness to the sound. We than tried piano where it faithfully reproduced the full range of sound with the aforementioned presence boost, not an unpleasant characteristic. Finally, we tried it on a guitar amp, requiring the use of the -10dB pad which proved effective. However, against the UB7AI, this was the only one application in which the NT2 did not compare favorably with the German mic's fullness of sound.
Conclusion
We have to say that we did not expect a lot from this inexpensive newcomer to the condenser market, yet despite one or two reservations, we were delighted with both the NT2's rugged construction and pleasing audio performance. Costing around a quarter the price of the 'market leader,' there should be a large market for it in studios and elsewhere. We know of many musicians, particularly vocalists, who have long desired a decent condenser but have been discouraged by financial considerations. With those constraints largely removed, they alone could ensure that this antipodean export from RØDE will be a success. In closing, we must report the RØDE NT2 was a pleasure to use and well worth a road test. The only major problem we experienced was giving it back!