Recording Magazine: November, 2010 | by Paul Vnuk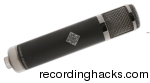 Click to see specifications & reviews for the Telefunken Elektroakustik R-F-T AR-51
A modern reimagining of a classic tube design — does it measure up?
It all started with Kaiser Wilhelm, who, in 1903, urged the feuding German companies AEG and Siemens to bury their hatchets and start cooperating to further the cause of the German war machine, to which end the two companies founded the offshoot Gesellschaft für drahtlose Telegraphie m.b.H., System Telefunken. Over the next century or so, that name, under ever-changing variants, was linked to major technological events and advances in the fields of broadcasting, telegraphy, television, tube technology, record labels (Teldec), flight control systems, and on and on. Telefunken was the distributor of the Neumann bottle mics, and has its own legacy of classic mics that are now collectors' items.
In the late 1950s, when it lost Neumann's distribution rights, Telefunken commissioned AKG to create a new line of tube microphones for them based off of AKG's classic C12 microphone and capsule, and the ELA-M series was born.
Towards the end of the last century, many company iterations later, the name became available, and in 2000 Tony Fishman acquired the U.S. rights to the brand as Telefunken USA. In 2009 the name changed again to Telefunken Elektroakustik, with rights in over 27 countries.
Other than as a brief history lesson, why is this important? Two reasons. First, this rebirth gave rise to brand new spec-for-spec builds of classic microphones from Telefunken's past glory. For most of us though, these American hand-built recreations are in the "if you have to ask, you really can't afford it" category, maybe just slightly less costly than tracking down an original vintage model in good working order. To wit, you can buy a good used car for less.
This leads us to reason number two: An increasing trend of the last few years has been for microphone manufacturers to adopt a hybrid method of U.S.-assembled microphones, built with globally sourced parts, largely from China.
Telefunken Elektroakustik entered this fray a few years back with a series of microphones known as the R-F-T series. The first two models, the AK-47 and the now discontinued M-16-MKII, used the venerable Neumann M 49 and AKG C 12 as their inspiration respectively.
The R-F-T
The latest addition to the R-F-T line is the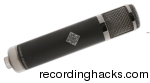 AR-51. As the name implies, it uses the ELA-M 251 as its impetus, however the folks at Telefunken Elektroakustik are quick to point out that the AR-51 features some modern tweaks and as such is its own beast.
Assembled and quality-controlled in Connecticut, the AR-51 is made up of a Chinese TK67 capsule (a 1-inch, dual-sided, center-terminated capsule), outer body, and metalwork. The amplifier circuit is of Austrian design, and formatted onto a U.S.-made PCB board. The tube is a NOS ECC81 twin triode, and most exciting, the output transformer is made in Germany and is the exact same one found in the company's current high-end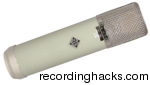 Telefunken Elektroakustik Ela M 251 as well as vintage models.
Cosmetics and build
The AR-51 is built in the same C-12-styled steel body and brass based head basket as the other models in the R-F-T series. Cosmetically the body is finished in a durable dark grey powder coat while the head basket and trim are a smoky tri-chrome finish. The serial and model numbers are etched into the body in silver, and the famous diamond Tele-Fun-Ken logo is affixed to the body. This mic is weapons-grade quality inside and out. The fit and finish is gorgeous.
On a special note, the steel body on the initial run of AR-51s was coated in a semi-smooth, zinc phosphate bath (similar to a gun barrel). While it was just as durable, it was more prone to inadvertent scratches than the newer powder coat. I will admit that the antique freak in me did prefer the look of the original finish, but will concur that it does scratch more easily with little effort or abuse. For this review I was originally sent only one mic, but I begged for a second for stereo tests and so ended up with one each of the two finishes.
The kit
As a tube mic, the AR-51 needs its own power, which is supplied by a squat little 6 1/2-inch x 5 5/8-inch x 2 3/8-inch box with a front-mounted 9-position pattern selector (omni to cardioid to figure-8 with six intermediate stages along the way) and two XLR jacks, a 7-pin input for the mic and a 3-pin output to your preamp.
The AR-51 kit also includes a felt-lined clamp-style suspension mount, velvet-lined wood box, and 7-pin mic and AC cables. While no carrying case is included, one may be purchased separately from Telefunken ($149).
Specifications and response
For the spec-hungry, the AR51 has a 76 dB signal-to-noise ratio, 16 dBA equivalent noise, sensitivity of 14mV/Pa= -37dB (0dB = 1v/Pa) – 10dB, and 138 dB Max SPL.
While Telefunken claims a 20–20,000 Hz frequency response for the AR-51, as is common with most modern microphones, it is what happens in between those limits that counts. Each mic is sent with an individual frequency plot, and while mine weren't identical, they shared common trends. The mic's frequency response rises by about 10 dB from 55 Hz to 100 Hz, then there's a gradual rise from there to about 8 kHz, accentuated with the usual small peaks one expects from body and capsule resonances (roughly at 300 Hz, 500 Hz, and 4 kHz). The mic has a significant high-frequency bump from 8 kHz up to about 15 kHz, after which it drops off fairly quickly. To my ears, this produces an overall sound that tends to unify sources and let them sit in a mix, rather than pushing them forward as one might often hear in a modern rock track.
How it sounds

The AR-51 sounds clear with an airy width and depth. Its midrange exhibits a clarity and detail without being punchy or forceful, and its low end is controlled yet smooth. I spent a good three to four months getting to know this mic in the studio. Just like in a good relationship, sometimes I liked what it did, sometimes I didn't, but eventually it was love…
Okay, if this sounds a tad gushy for a mic, let me explain why. While many mics are considered source-specific, the AR-51 cannot be measured in terms like "good" or "bad." Instead it becomes more a question of what kind of music you're miking and where you want the miked source to sit in the mix. What I found was that certain sources in certain genres weren't suited to the AR-51… but it worked way more often than it didn't, and when it did work, oh boy…
Voices
For instance, while I found the AR-51 to have an extremely pleasant tone on the male alt-rock vocals I was cutting at the time, I found that for these groups of songs it lacked a bit too much of the mid-high push necessary for leaping out of a dense rock mix.
On a singer-songwriter accompanied only by acoustic guitar and hand percussion, it had the opposite effect. Even though everything was tracked separately, the AR-51 nailed the illusion that the vocalist, the guitar and the percussion were together in the same space at the same time. It was a believable depth that simply gelled well with little to no post-processing.
Similarly the AR-51 is wonderful at seating backing vocals into a mix. This is a mic that is tailor-made for group backing vocals, whether it's a duet in a figure-8 pattern or a trio of vocalists in omni mode. Like a classic microphone, it imparts an illusion of space, even on mono tracks.
Guitars — elektro and akustic
Interestingly the AR-51 is one of the rare exceptions to my overall dislike of large-diaphragm condenser mics on an electric guitar cabinet. Here it is well suited for traditional blues, Americana and many classic rock styles, where air and presence win over "in your face."
Coupled with a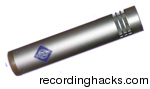 Neumann KM 84 it was one of my favorite combinations for capturing the reverb- and tremolo-drenched sounds of '50s-style rockabilly, as well as Wes Montgomery-style traditional jazz. The only style it fell short on was for the focused grind of punk and metal, where the SM57 and/or R-121 still rule.
On acoustic guitar it is a nice choice for strummed steel-stringed rhythm tracks as well as those of the aforementioned solo folksy nature. It was not, however, forward enough for finger-picking leads or nylon classical guitar, where I found my U47 clone and/or small-diaphragm KM 84s to be more to my liking.
Hit me
Drum overheads? This is may be why this mic was created, period! (Gush alert!) In a room with 20' ceilings, 1-inch thick hardwood floors and a well-tuned kit, the AR-51 gave me the overhead drum sound I had been trying to capture for years.
In omni mode, the sound was full and lush with a smooth, silky detail on the cymbals that was not strident, even with huge crashes and swells. Also, thanks to the mic's rolled-off low end, I did not have to EQ out as much of the mud as I have in the past with other overhead mics, including my beloved KM84s.
The AR-51 is also well suited to shakers, tambourines, bells and the like, and as you can guess, its sense of depth makes it a very natural room and distance mic as well. About the only sources where it wasn't stellar were a huge 8×10 bass cabinet and a 22-inch kick drum (miked a foot outside), where I would have liked more punch and deep boom.
Conclusions
My conclusion is simple: I love the AR-51! It's incredible on many sources, but for drum overheads alone this mic is worth having in your locker. Speaking of worth, the AR-51 streets at $1895, a serious price tag, but that's for a serious mic that costs much, much less than one of Telefunken's handmade new recreation ELA-Ms, to say nothing of a vintage model.
Does it capture the sound of a real ELA-M 251? Does it sound "vintage"? I don't know. Part of the problem is — we have a romantic expectation of tubes and vintage recordings and old gear that translates to modern tube mics trying too hard for that "tube sound," with many tube mics trying to be like a thick fuzzy pillow over a source. The AR-51 is like ripping open the pillow and scattering the feathers in the air and letting them float gently around the source… imparting tube character in the air around the music rather than piling on and potentially obscuring it. If this is "vintage," fine; all I know is, it's beautiful.
Price (as of November, 2010): $1895 street