Recording Magazine: September, 2010 | by Paul Vnuk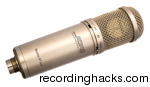 Click to see specifications & reviews for the ADK Berlin 47 Au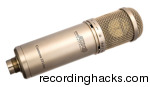 Click to see specifications & reviews for the ADK Cremona 251-Au
Talk with ADK founder Larry Villella for any length of time and it will be apparent that he has an intense passion for microphones. For thirteen years, that passion has led him and his company to create and refine a line of microphones known for quality, affordability and sound.
While most of ADK's microphones are Chinese in origin, it is this refinement that has led to the creation of ADK's Custom Shop series of microphones, which are globally sourced for parts and then built in the USA. Currently ADK's Custom Shop line includes a whopping eleven tube mic choices and four FET models. This month we will be looking at the two newest FETs.
Going global
Each Custom Shop FET microphone is built around ADK's newly designed AU capsule. [See all of ADK/3-Zigma's large-diaphragm capsules in our microphone capsule directory. –RH Ed.] Said capsule is the end result of a three-way collaboration by designers in the USA, Belgium, and Australia. Added to that are British-made Oxford transformers, a USA-made Philips Norelco "Über-FET" circuit, and Asian metalwork. Each of these components is then hand-assembled and fine-tuned in ADK's shop in Tacoma, Washington.
All four models are built around the same AU capsule and quality internal components (such as a $6 resistor) and use the same nickel body and grille. Each mic has its name and serial number etched in black.
Each of the four models features a dual switchable highpass filter (–3 dB @ 100 Hz or 160 Hz) and a dual switchable attenuation pad (–8 dB or –16 dB). Each mic has a fixed cardioid pattern, a 20 Hz to 20 kHz frequency response, a < 15 dBA equivalent noise level and a max SPL of 135 dB with the –16 dB pad engaged.
Lastly, each mic ships as part of a kit that includes both a shock mount and a hard mount, a foam windscreen, a goose neck pop filter and a vinyl storage bag all housed in a foam rubber lined aluminum carrying case.
Microphonal geography
The first two custom-shop models released were actually upgraded versions of two of ADK's most popular Audiophile series mics: the Vienna and the Hamburg.
The Vienna is based on the sound of a popular Austrian-designed mic (think C12), while the Hamburg is based on a famous model of vintage German descent (think U67). Each of these mics, now with the added suffix "Au", features the upgraded capsule, components and build. The Audiophile series versions are still available as well and are now known as the MK8 models.
Moving on to the two newest additions to the custom-shop line we have the Berlin 47Au and the Cremona 251Au. Both mics continue their homage to geographic location, but are obviously a bit less cryptic of their intended sonic signatures. [ADK Microphones reports that the earliest mics in the series have recently been renamed the Vienna 12 Au and the Hamburg 67 Au to bring them into line with the naming convention, and that a fifth mic in the series, the Frankfurt 49 Au, "is coming by year-end." — Ed.]
Shades and tones — not clones!
Since the original mics that this quartet is based on are tube mics, these solid-state models really can't be called "clones," nor does that seem to be ADK's intent. Instead they seem to imply and approximate the sonic shades and tones of the vintage classics rather than trying to copy them spec for spec.
You can order any of the mics in this line custom-tuned for your personal needs and taste. For example, according to a conversation I had with Larry at NAMM, famed trumpeter Mark Isham has a special edition Berlin 47 Au voiced specifically for his trumpet (ADK will sell you one too if you wish). This really puts the "custom" into custom shop.
OK, enough background — let's dig into the two newest models.
Behind German lines
Like the Hamburg Au, the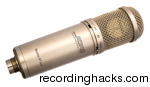 Berlin 47 Au pays homage to a similarly-numbered well-known Neumann, which like the Berlin was later available in a FET-based incarnation [see that mic's 2013 reissue, the new "Collector's Edition" U47 FET –RH Ed.].
Looking at the Berlin's frequency chart you will see a mic that starts with a slow 4 dB roll off from 20 Hz to 100 Hz and is then essentially flat from 100 Hz up to 2 kHz. This is followed by a less than 2 dB rise between 2–5 kHz and a 2 dB peak at about 12 kHz which then sharply rolls off –6 dB down to 20 kHz.
In simple terms you have a microphone that has been tuned to deliver a smooth, rolled-off sound with a slight mid-kick punch.
On the road to Cremona
The Cremona 251 Au is a solid-state approximation of the famous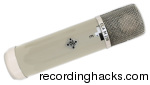 Telefunken Ela M 251 (which was itself a USA variant of an AKG C-12)… although according to Wikipedia, Cremona is a city in Italy… [Home of the three immortal violin makers Amati, Guarneri, and Stradivari — Cremona is all about tone… LzR]
Both sonically and on paper the Cremona features the most radical tuning of the series. ADK describe the Cremona as "adds air" and looking at its graph it's quick to see why. It features a tiny roll of from 20 Hz to 30 Hz, which then stays flat up to 3 kHz. This is followed by a 2 dB presence boost from 3–7 kHz, and a significant 5 dB boost from 9 kHz all the way to almost 20 kHz that, except for 1 dB at 20 kHz, never tapers back down. Making this, on paper, one potentially bright mic.
In use
The Berlin is well suited to sources needing a touch of rounding, such as shrill soprano and alto vocalists, tambourines and shakers, and even bright/harsh guitar cabinets, where it works quite well in multiple-mic setups.
Conversely, it works well to add punch and girth to sources as well, such as baritone vocalists (especially crooners) and low-end sources like kick drum and floor toms. I really liked this mic padded down and placed about one to three inches outside of the kick.
Where this mic really excels the most, in my opinion, is on the brass family (probably why Mark Isham likes it). Both in ensemble recording of an orchestral brass section as well as solo trumpet, the Berlin 47Au is a killer. It's a pleasant tone that is forward, but smooth. I also found it worked great on metallic percussion instruments like xylophone, vibrophone, and even tubular bells.
On voiceover work, it has that instant deep radio announcer sound to it and is reminiscent of many common dynamic broadcast mics, but with much better signal and lower noise. I do a lot of voiceover recording, and the Berlin is now my favorite mic for that application. (My clients' favorite, too.)
I compared it to my U47 clone (a Peluso 2247LE) and I found the Berlin to be a lot smoother and tighter, but lacking some of the grit and depth that the tube-based 2247 had to offer. Not better or worse, just different.
The Berlin's dark punchy signature was not to my taste on most acoustic string instruments in either the guitar or violin families, and unless you are going for a vintage jazz or swing tone, it was a touch too rolled off for use as a drum overhead or room mic.
That's OK, though, because on the flip side we have the Cremona, which is in many ways the tonal opposite of the Berlin.
The air in Cremona
The Cremona 251 Au is indeed a very open and airy microphone, and gave my Brauner Phantom Classic-L (reviewed December 2008) a run for its money, with a similar high-end signature.
While the Brauner was more pristine, I would call them cut from the same cloth, with the Brauner being more ultra-realistic and unforgiving, while the Cremona was a tad sweeter in the mids.
I was surprised by the Cremona's lack of bite. It is bright, but not harsh at all. According to ADK, all of the Custom Shop mics use a slow-saturating FET circuit which helps avoid clipping and harshness, so I would guess this may be why.
The Cremona would not be my first choice for brass, or anything metallic. As an overhead mic (I only had one) it does capture a kit's detail well, but can become a tad overbearing quickly if you have a cymbal-happy drummer.
On the flip side, the Cremona is to acoustic instruments in my opinion what the Berlin is to brass. The Cremona captures acoustic guitars and violins with a lovely airy detail, and of course the better the instrument, the better the Cremona sounds.
On vocals, the Cremona, like many current microphones, was pretty singer-specific. It is great for capturing a delicate controlled vocal performance, but if you have a screechy belter, not so much. So: folk music yes, screamo and metal…no!, and over all I preferred it on female voices to male.
Conclusions
Both mics are built exceptionally well and each one is expertly tuned to excel in different areas of the recording spectrum. Choosing one over the other is akin to choosing a fine wine for a meal, more about personal taste and mood than "good or bad." For this meal you might want something light and crisp, but with dessert it's time for a rich and robust taste. Similarly, these mics have flavors that suit certain sources well, and it's fun and exciting to find perfect pairings.
One thing the folks at ADK do really well on th1eir web site is to offer good yet simple descriptions of each microphone's tonality and tuning, as well as a list of sources to which each microphone is best suited.
At $1200 street, the Custom Shop mics do come with a higher price tag than you may be used to from ADK, but these models are serious step up in every way. They compete comfortably not only in their own class, but even with models selling for $500 more.
Of the two, the Cremona is probably the better choice for an all-around work horse or as a first serious large-diaphragm mic in a collection, but either mic would be a great addition to even a well seasoned mic locker.